From Juicing To Souping: Project Juice Takes On New Bottled Trend
The heart of Project Juice may always be beverages, but the California-based juicing company is also exploring a new passion project: bottled soups.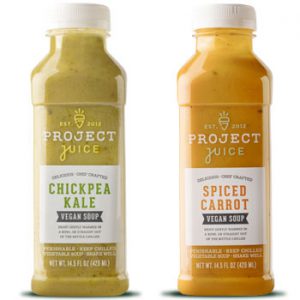 The certified organic, cold-pressed juice and clean food company launched its first line of vegan bottled soups in December. Both of its flavors, chickpea kale and spiced carrot, were crafted by Project Juice's Director of Product Development, Chef Sascha Weiss, out of a want for a food and juice cleanse option for 2017 — and a personal love for soup.
"We are always looking at innovating and I personally really like soup and I think a number of people within the team really like soup so it seemed like a natural progression," Weiss told NOSH.
The soups are equally popular both in company-owned stores and online, with sales split evenly, according to the company. The soups sell for $7.99, a few dollars less than its juices, which are priced at $8.50-$10.
Navigating this emerging category has been a learning experience for Project Juice because, they say, there are differences between soups and juices in terms of production, consumption, and nutrition content. Weiss described his soups as fully cooked and created in a full kitchen, whereas his juices are made from raw vegetables or fruits, meaning that they have different shelf lives and require different amounts of labor to produce.
But the biggest difference between juicing and souping is that the soups have a higher fiber content, according to Weiss.
"I think they fill a different usage area than strictly fruit and vegetable juices," he said. "… Having fiber in what you are consuming can be important to how our bodies assimilate those nutrients like those in our juices. So [our soups] can work along with them."
Project Juice soups are available for delivery nationwide, as well for purchase in any of its cafe locations in the Bay Area and Southern California. Though the company's juices are available at other California locations like The Fresh Market at Neiman Marcus, Fraiche Yogurts and Laguna Beach's Montage, the soups are not (as of now). The company is looking to test additional flavors and grow its sales before eventually rolling out to wholesale later this year, according to Weiss.
Souping as a whole is gaining popularity due to its high nutritional value, high fiber, and convenience. In February, the The New York Times declared souping as the new juicing, and Tech Times said it's a diet trend that is expected to boom in 2017.
One "no bowl required" meal replacement in particular, Tio Gazpacho, is normalizing drinkable soups and expanding its reach across the nation. The company partnered with award-winning chef José Andrés in November and became available in all Manhattan Whole Food locations over the summer, adding to its growing roster of over 300 retail locations. The company also received a $1.25M funding round led by General Mills' 301 INC in March of 2016. Chilled soup company Züpa Noma is also making a name for itself as Sonoma Brand's first product from Jon Sebastian, the former mastermind behind KRAVE jerky.