'Gutzy' New Look and Plan for Energy Fruits
An organic fruit pouch company is looking to its "gutsy" new branding strategies and product innovation to grow the adult pouch market.
In 2014 entrepreneur David Istier founded Energy Fruits, a shelf-stable natural fruit and vegetable pouch. Three years later, the company has rebranded and more than doubled its distribution while focusing more directly on prebiotic-based gut health. The company has also developed a new line of organic fruit and steel cut oat snacks.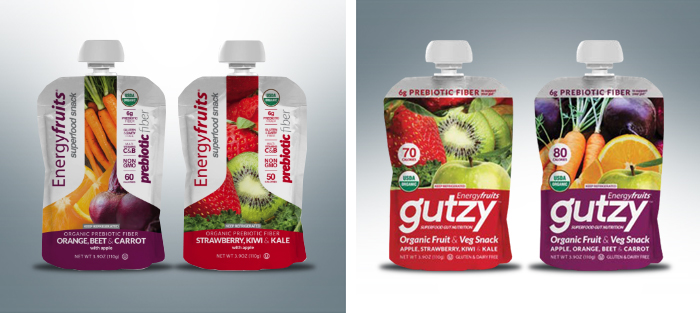 Istier, the former regional manager of North America and VP of Sales and Marketing for Materne's GoGo squeeZ, the first squeezable fruit pouch for children in the U.S., told NOSH that the company ultimately decided to rebrand because of changing consumer preferences toward "fresh and more premium" products in the convenient snacking space.
He said the new approach keeps the product's same core ingredients of organic fruits and vegetables, but adds prebiotics and transitions the line from being shelf stable to refrigerated.
"It's all in the name," he said. "It's about gut health — hence Gutzy — but then there's the aptitude of our brand which is about being 'gutzy.' Being gutsy is about trial, challenging their expectation of other products or what gut products are, and offering them a product that can match their healthy active lifestyles."
The new positioning plays to two popular trends across the industry. Consumers have been increasingly trusting their gut to probiotic-added snacks and beverages. Produce-based snacks are also on the rise, representing 24.9 percent of the category, just behind salty snacks at 25.1 percent, according to Nielsen.
With this pairing, the company has seen rapid distribution growth. Currently Gutzy is in more than 1,000 stores, including Kroger and Safeway. Istier expects to add 1,500 more stores by early October thanks to an expansion in Kroger and an introduction to the east coast market via Shaw's.
Along with the rebranding, Gutzy turned a fresh eye to its product portfolio. This month, the company launched a range of organic fruit and oat snack pouches. The new steel-cut oat packs are less than 100 calories per serving, and are gluten-free, vegan and non-GMO. It's currently available in 400 stores.
While future products may leave the pouch format, for now, the company is sticking with what it knows. Istier said the goal is increase the eating occasions for pouches from just a snack to a breakfast option, and offer them at a price point that makes them an everyday item. In a category that has been historically positioned toward children, Gutzy executives are hoping the rebrand raises its brand awareness within the adult snack space.
"It's the merge between beverage and snack, and that is what we see as the positioning of the pouch," Istier said. "They're products in the drinkable format that are a snack, and we've seen that grow in dairy now with brands like Siggi… We think that a pouch is a great delivery for those kinds of products, too."