Goodie Girl Finds Convenience Sweet Spot With Starbucks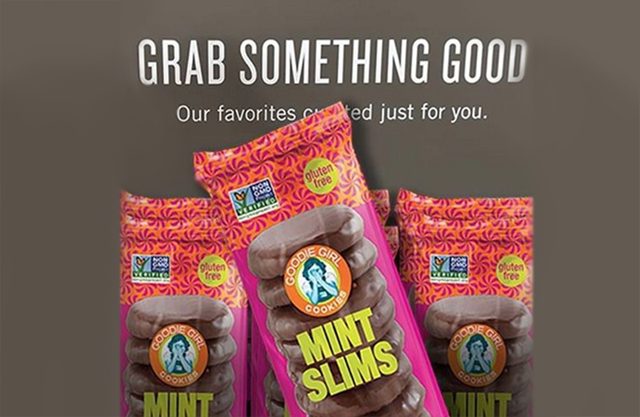 "You don't say no to Starbucks. You have to figure it out."
That's what Goodie Girl Cookies Founder Shira Berk was thinking when Starbucks asked the gluten-free cookie company to come up with a new grab-n-go package for the brand's best selling line, Mint Thins. So Berk and her strategic partner Greg Toufayan, of Toufayan Bakeries, got to work to create a larger format of their on-the-go options– and the results couldn't be sweeter. The cookies are now featured in more than 7,900 Starbucks across the country as of last month.
"It is kind of an unbelievable thing for an emerging brand, right?" Berk told NOSH. "All of the sudden you are with the top food products in the world and people ask you where you can find your cookies and you basically say, every corner? It is kind of unreal."
The global coffee chain announced in March an array of expanded food menu and snack offerings including natural brands like Goodie Girl and jerky brand Country Archer. The cookie line also gives Starbucks more gluten-free options on its menu.
Goodie Girl has been waiting for an opportunity like this since Berk, a former music marketing executive in New York City, left her job on a whim in 2010 to create a gluten-free version of the Girl Scouts' Thin Mints. While the brand had fans, the company really began to take off after after Berk partnered with Toufayan two years ago to have his family's bakery company take over manufacturing and distribution. Berk maintains ownership of an undisclosed portion of the company and entire control of creative, sales and day to day operations.
Now, the brand's seven flavors can be found in grocery stores like Fresh Market and Kroger, as well as in select nationwide Walmart stores. Though Berk and Toufayan have been pleased with Goodie Girl's strategic growth, the duo realized after its Starbucks partnership that it was potentially missing a large sector within grab-and-go: convenience. The brand has long offered 1 oz. bags of its chocolate chip and midnight brownie cookies sold in packs of six, but Berk said in order to get into Starbucks the brand had to think bigger. Their response was to package their best-selling mint slims into "a slightly more filling," and sleek 2 oz. bag.
"This has been a big eye opening thing for us regarding how much business there is in that category. The Starbucks [packaging] was great that we developed for them, but now we are going to be able to use that idea to really open up a whole other market for us," Berk said. "People want a little more when you're in the convenience market. One ounce is not typically big enough for a convenience store to sell on its own. So this Starbucks thing was very different, but we now have hit the sweet spot of what that business is."
Berk said the company has since added a 2 oz. Chocolate Chip variety as well, and plans to use the new pack as a testing ground for new flavors. But moms need not fret, the brand will not discontinue the lunch box sized "go packs" from its line.
For the rest of 2017, Berk says she hopes to especially focus on marketing. The goal is to grow the brand's identity and recognition on its newly established nationwide platform. "The cookies have a fun, kind of sexy look, and they just taste delicious," Berk said. "So we want them to work in spaces that have that same energy."
To do this, the brand is also focusing on sampling. Beyond traditional demo programs, Goodie Girl took part in a paid sampling program with 1,000 Oscar fans. "That one ounce comes in handy when we're handing out cookies to thousands of potential new customers," Berk said.