Foodworks Launches as Platform to Help Food Brands Scale
Foodworks, a platform that combines cooking and production facilities, a distribution network, and online software, launched this week in Brooklyn with the goal of helping food brands start and scale their businesses.
The company is the most recent incarnation of what was formerly Brooklyn Foodworks, a coworking space, incubator kitchen and commissary space for food and beverage brands.
Brooklyn Foodworks was founded as an incubator kitchen just under a year ago by Dinner Lab, a company that produced one-off dining events across the U.S. When Dinner Lab declared bankruptcy in June 2016, new Foodworks co-founders Nick Devane and Mike Dee purchased the business. Together with Dinner Lab co-founder Drew Barrett, the group has been working for several months on revamping the Brooklyn Foodworks concept.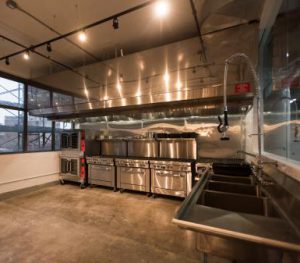 Devane explained that the motivation to launch Foodworks began with the idea to provide greater opportunities to small companies getting started in food and beverage. Previously he and Dee founded Homemade, an app to allow home cooks to sell their wares, and saw users struggle with starting a food business.
While the team at Brooklyn Foodworks has remained on, Devane told NOSH the new concept has greater potential in its reach and abilities.
"Even now with the rise of incubator kitchens, co-packing and the unbundling that has happened with food, it's still prohibitive to food businesses…The world kind of expects you to have $100,000 in your pocket and most people don't have that," Devane said. "There are needs that are unmet and a lot of people are very upset with what's in market. And what we're figuring out is how we can add value."
Currently, roughly 100 companies are producing their products at Foodworks' kitchen. Within the next few weeks, Devane said the company also will begin to offer distribution within Brooklyn for all of its associated brands. In the future, , Foodworks plans to develop more commercial kitchens around the country and offer distribution in those cities as well.
Foodworks has approximately 1,000 brands currently using their software. These digital offerings, which include listings on Foodworks' site and ecommerce platform, are open to food brands, as well as suppliers and commercial kitchens. Devane sees the site as comparable to the home design site Houzz, but for the food industry.
"We want to be the one stop shop for food businesses, Where in the future, if you're thinking about starting [a food business], we can do everything for you," Devane told NOSH. "We see this amazingly disparate information on food… It's a network where the nodes aren't connected"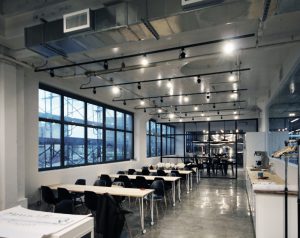 Currently Foodworks' revenue stems from the physical kitchen space and a small charge on products sold through its e-commerce platform. But Devane said there are other possible opportunities for monetization in the future with the software platform.
Beyond revenue, Devane's other goal is to increase access within the food world for a wider range of entrepreneurs. He said 84 percent of Foodworks' current kitchen tenants are minorities or women.
While Devane is open to working with all brands, the team is primarily focused on small companies as to be in a space he feels they can effect the most change.
"We're young and full of energy. I think the thing that we can do is make a more frictionless, seamless, beautiful experience and benefit the the very young new [businesses] as opposed to the the person who is doing $25 million and does have easy access to capital," Devane said. "We will die trying to level the playfield."