Distribution Roundup: Arctic Zero Joins Target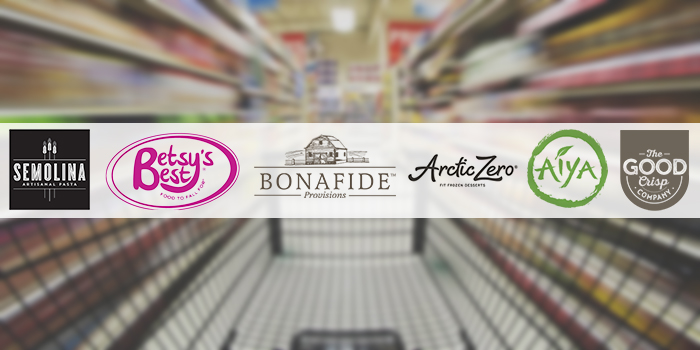 Retailers are adding both salty and sweet choices to their shelves this summer.
From ice cream and chips to drinkable veggies and matcha, these NOSH brands are furthering their consumer reach with some newly expanded retail relationships.
Bonafide Gets Nationwide Pickup of Drinkable Veggies
Though Bonafide Provisions' only launched its new "drinkable veggies" line this past January, Founder Sharon Brown told NOSH that its five skus will launch in all 11 of Whole Food Market's regions this August.
The line, which combines chilled bone broth with pureed vegetables, first debuted exclusively in the retailer's Southern Pacific region. Brown said the beverages' "velocities continue to climb weekly." Each 12-ounce bottle retails for $5.99 and is high pressure processed (HPP) to allow for a longer shelf life.
To support the product lines launch and expansion, as well as other 2017 initiatives, the brand received a second round of funding from Boulder Investment Group Reprise (BIGR), an investment firm founded by the former managers of Boulder Brands' venture capital group.
Arctic Zero Brings New Flavors To Target
Low-sugar, low-calorie frozen dessert brand Arctic Zero is growing their lineup and their retailers this month. The company is debuting three new chunky pint flavors across its retailers nationwide — and that list now includes select Target locations.
Arctic Zero was founded in 2010 and is now available in more than 17,000 natural and conventional grocers nationwide, including Albertsons, Kroger, Publix, Safeway, Sprouts Farmers Market, Whole Foods Market and Walmart. Arctic Zero's new flavors include cherry chocolate chunk, peanut butter swirl and rocky road trip chunky pints, as well as cake batter bars.
Arctic Zero believes that everyone should be able to indulge in a favorite frozen dessert, and feel good about the choice," Amit Pandhi, Arctic Zero CEO, said in a statement.
The Good Crisp Goes National
Pringle's natural competitor, The Good Crisp, is about to reach a lot more consumers.
The brand is moving beyond the northern California region, where it launched one year ago and now will be distributed nationally. The brand also plans to expand past its natural retailer roots and into conventional stores including Wegmans, 120 Hy-Vees and 200 Winn-Dixie stores. The additions, coming by June, will more than double the Australian-born brand's store count.
"We will trial spots right next to Pringles, but our natural home is within the 'better-for-you' snack alternatives," Chief Operating Officer Matthew Parry told NOSH.
The Good Crisp experienced some growing pains upon its entrance into the U.S. market in 2016 and the retail expansion, Parry said, is a response to recent rebranding. The company has already seen a 40 percent increase in units sold, according to Parry.
For 2017, Parry said the brand will continue to focus on expanding its distribution reach in grocery, as well as in convenience and drug stores. He added that the company is currently in talks with a major national drugstore chain.
Betsy's Best Expands Distribution To East Coast
Betsey's Best has added Wegmans to its list of retailers. The rollout of the gourmet nut and seed butter begins this spring.
"Wegmans is America's favorite grocery store so it's an honor to have our Gourmet Almond Butter, Cashew Butter, and Sunflower Seed Butter on its shelves," Betsy Opyt, President and CEO of Betsy's Best, said in a statement. Since last year, Betsy's Best has expanded from 58 stores to more than 2,100 across 39 states with both conventional and natural retailers like Kroger, Whole Foods Market (Florida), Bristol Farms, City Market, King Sooper and Harris Teeter.
Aiya America Matcha Brings Green To Select Whole Foods
Aiya America's matcha products are now available in over 100 Whole Foods Market locations in the natural grocer's Midwest and Southern Pacific regions.
"Our mission is to share the goodness of Matcha through global education of its tradition, history, and health benefits," Fumi Sugita, General Manager of Aiya America, said in a statement. "We are excited to have Whole Foods Market as a platform to spread that messaging to a greater audience."
According to the 129-year-old company, Aiya is the world's largest producer of premium Matcha green tea. The traditional ceremonial tea powder's grassy notes has grown increasingly popular in the U.S., even finding its way beyond consumers cups to their plates.
Semolina Artisanal Pasta Doubles Stores With Gelson's Debut
Semolina's Founder Leah Greenstein Ferrazzani has come along way since making pasta out of her laundry room. The Los Angeles-based small-batch company will showcase its old-school, Italian style, organic dried pasta lines in Gelson's this spring.
The handmade pasta can be found in all Gelson's locations in Southern California starting this May. The regional chain will stock five of the brand's SKUs including: Conchiglie, Rigatoni, Strozzapreti, Fusilli and Penne Rigate. The expected retail price is $7.49.
The addition of Gelson's as a retailer almost doubles the brand's store count. Before this deal, Semolina's was in 23 Whole Foods, and several Jimbo's and Erewhon locations. The pasta can also be found in numerous boutique markets and cheese shops.