Distribution Roundup: Beyond Meat, Brazi Bites Play to Conventional with Safeway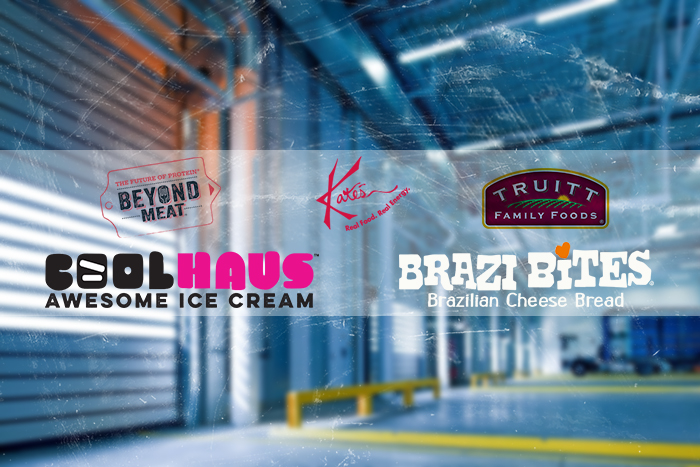 Retailers looking to ride the waves of change this summer are adding new brands to their offerings. From burgers to bites, here is the latest in distribution news from the natural world.
Beyond Meat Brings its Plant-Based Burgers to Safeway
Beyond Meat announced last month that it's sending its popular plant-based burgers to select Safeway grocery stores.
The burgers will be featured in the meat section of Safeways throughout Northern California, Northern Nevada and Hawaii. Though only a year old, the Los Angeles-based brand has seen sell-out demand since debuting last May. The products answer consumers' call for more plant-based protein options.
"At Beyond Meat, we are in the business of enabling consumers to eat what they love — in this case, delicious satiating burgers — while enjoying the health, sustainability, and animal welfare benefits of plant-based protein," CEO Ethan Brown said in a statement.
Coolhaus Brings Creative Treats East with Wegmans
Premium ice cream maker Coolhaus can now be found in all 92 Wegmans grocery stores, the company announced last month.
"The growth in both distribution and notoriety that we've been able to accomplish in such a short amount of time is something we are incredibly proud of," Coolhaus CEO and founder Natasha Case said in a statement. "We've worked hard to develop a range of flavors that we truly love and we're excited to see how our brand will continue to grow in the years to come."
The Los Angeles food truck turned CPG company makes its pints, "sammies," and bars from locally sourced ingredients free of artificial ingredients and GMOs, and using hormone-free dairy. The treats can be found in more than 5,000 grocery retailers across the country, at two Los Angeles brick-and-mortar locations and in a fleet of trucks across Los Angeles, Dallas and New York. Coolhaus is best known for its inventive flavors like Dirty Mint Chip, Salty S'mores, Sundae Funday, and Balsamic Fig and Marscapone.
Brazi Bites Looks to Deepen Presence in Conventional With Safeway
Brazi Bites is hoping to bring its Brazilian cheese bread to more consumers as the demand for natural products expands beyond natural markets.
The company, which gained nationwide recognition after its 2015 appearance on Shark Tank, added 200 more Safeway locations to its store count last week. The frozen rolls are sold in about 4,000 stores including Kroger, Whole Foods, Wegmans, Giant, Tops Friendly Market, Walmart, Sprouts and Costco.
"Because we have a product that's not intimidating for the conventional shopper, we have benefitted greatly," CEO and founder Junea Rocha told NOSH. "It's cheese bread. So it's something everyone can understand."
As she looks to 2018, Rocha said the company aims to grow its presence in conventional retailers, as well as roll out new product lines that align with the company's "snacky, cheesey and gluten free" values. To keep up with their rapid growth, Rocha said the brand is looking to update and automate its production facility.
Though Rocha said her deal with Shark Tank ultimately fell through, she believes the show was pivotal to the brand's exposure.
"That's also what pushed us to go into conventional. The viewers want this product everywhere. They didn't want to just drive to the natural store," she said. "Brazi is not turning into a conventional brand. It's a natural brand that is making a move into conventional to broaden the audience and answer this demand."
Truitt Family Foods Brings Shelf Stable Dips to Home Goods
Truitt Family Food's shelf stable hummuses and dips will hit T.J. Maxx's Home Goods locations this month.
Marketing manager Roger Plant told NOSH that Truitt and TJX will determine within the next month whether the retailer — known for buying specialty overstock or limited availability food items — will offer the dips continually. "If it sells well, it will be available constantly. If it does moderately well, it will be as available," he said.
The company's portfolio is currently available in more than 500 locations across the country including Cost Plus World Market, select Fred Meyer stores, and regional Whole Foods outlets. The newest flavors, which launched in April, include apple cinnamon dippers, koko raspberry dippers, roasted poblano dippers and roasted red pepper hummus, all of which have a shelf life of a year. Truitt dips can also be found in retailers like Walmart thanks to a partnership with Town House that pairs the Kellogg Company's cracker line with the dips.
Plant said the biggest hurdle for the brand has been educating both consumers and retailers about where the product is sold. "Consumers expect hummus type products to be merchandised in the refrigerated section," Plant said. "But slowly, by seeing the product merchandised at room temperature, consumers are beginning to understand there are safe grab-and-go options for taking the product hiking, biking, to the office for lunch, wherever."
Kate's Real Foods Brings Bars and Bites to Wegmans
Kate's Real Food is returning to its roots with the addition of Wegmans to its retailer list.
Founder Kate Schade, a New York native, launched her brand geared to outdoor adventure enthusiasts in Jackson Hole in 2010. Now the company's bars and bites can be found in retailers like REI and New Frontier, as well as other locations including The Hotchkiss School, Green Acres, Ritz Carlton, Eldora Ski Resort, St. Regis, Rosauers and Seiad Valley Store.
"The last few years while at Canandaigua Lake, I would run by Wegman's organic farm and paddle board by Danny Wegman's house wanting to just shore up and bring some samples to him in my bikini," Schade joked in a statement.
Kate's Real Food offers two lines of organic oat bars, Stash and Grizzly, as well as bites in "twist and seal" packages.