Deal Dive: Feta Spreads, Meal Kits & Coffee Find New Capital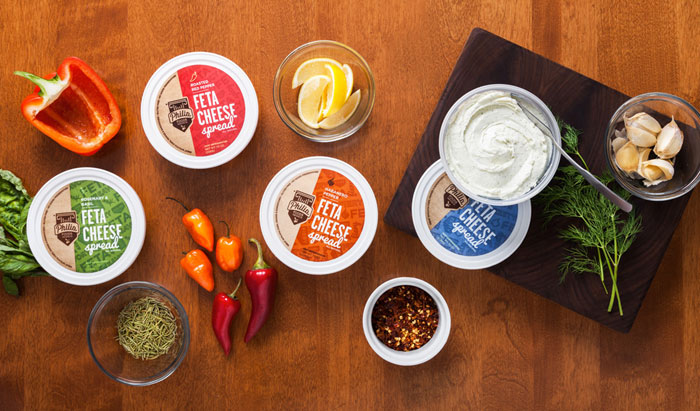 It seems that summer vacation doesn't apply to the CPG industry, which has seen a flood of capital raises and acquisitions. Here's a look at some the deals of the past few weeks.
Land O'Lakes Slides into Spreads
Dairy co-op and producer Land O'Lakes has acquired five year-old feta spread brand Philia Foods, which was a participant in the company's incubator program last year. The Minnesota-based spread brand was founded by Mike Rakes, who will join Land O'Lakes as the marketing manager overseeing the Philia Foods brand.
Rakes started the company after serving a feta and roasted red pepper spread to his family at a Mother's Day celebration. Since then, he expanded the line to four SKU's sold in 250 retail locations including Safeway East, Lunds/Byerly's, Kowalski's and Hy-Vee.
Rakes told NOSH he was planning on looking for capital rather than seeking acquisition, but when the dairy company approached him Rakes ultimately decided the merger offered a better path to success for the company.
"I felt that the expertise and resources available to the brand at Land O'Lakes were far greater than anything I could have come up with on my own," Rakes said. "Even with millions of dollars of capital, the time it would've taken to build out the necessary resources to compete nationally would have been staggering."
The acquisition supports Land O'Lake's dairy innovation strategy of "innovation-through-acquisition," the company said in a statement. Land O'Lakes' team believes that by acquiring companies, they are able to save time on R&D, research and product development.
"We think of this as an acquisition of time – time that would have been spent developing, testing and marketing a product in the highly attractive snacking and specialty dairy category," Raquel Melo, VP of Innovation and New Business Development at Land O'Lakes," said. "Philia Foods products are in some settings where even Land O'Lakes has yet to gain a foothold. In return, we have a lot of expertise to offer."
Smithfield Invests in Meal Marketplace Chef'd
Smithfield Foods, Inc. announced last week that it invested $25 million in e-commerce "meal marketplace," Chef'd. Other investors in Chef'd's Series B round included Campbell Soup Company, with a $10 million investment announced in May, and Fresh Direct, a repeat investor. Smithfield's investment makes it the meal marketplace's largest strategic investor to-date.
"Our partnership with Smithfield will grant us access to first in class national manufacturing and distribution facilities as we continue to rapidly expand," Kyle Ransford, CEO and Founder of Chef'd, told NOSH. "As partners, we are committed to collaborative innovation, and the experience, knowledge and resources we each bring to the table will open up new doors and possibilities as we move forward.
Ransford said the pork producer fits into Chef'd's overall funding strategy of working with "like-minded" food brands that are trying to embrace new digital trends pervading the industry.
"We have partnered with hundreds of brands in a number of different capacities that all have one thing in common – they share our understanding of the importance of e-commerce in the rapidly changing food industry and are on the forefront of adapting to these changes to meet consumers where they are and where they want to be," he said.
Kathleen Kirkham, Smithfield's director of corporate communications, told NOSH that through the investment Smithfield will "become a full-service protein provider for Chef'd, tap into real-time consumer insights and sales using Chef'd's direct-to-consumer model, and enter into a new, growing $2 billion category."
Farmer Brothers Brews Up Boyd Coffee Acquisition
National coffee roaster, wholesaler and distributor Farmer Brother announced earlier this week that it has acquired the 100-year-old Boyd Coffee Company in a deal valued at $58.6 million. The company follows Farmer Brother's past acquisitions of China Mist and West Coast Coffee.
"We believe the Boyd's business will be an excellent strategic fit for Farmer Brothers," Mike Keown, Farmer Brothers CEO, said in a statement. "We expect this acquisition will strengthen our position in the marketplace, expand our distribution footprint, and generate significant synergies."
Farmer Brothers noted that it acquired Boyd's for its customer channels, product portfolios and distribution networks, including a high-touch service model of direct-store-delivery. However, executives said the company expects to improve overall operational efficiency by moving production into its existing facilities over the next year.
Target to Boost Delivery Options with Grand Junction Acquisition
Target is looking to improve its delivery capabilities and refine its last mile delivery systems with its recent acquisition of Grand Junction, a transportation technology company.
The San Francisco, Calif.-based software company developed a technology platform used by retailers, distributors and third-party logistics providers to manage local deliveries. Target, which announced the deal last week, will have immediate access to Grand Junction's technology and carrier network. The addition is expected to improve the speed of Target's delivery, as well as offer new services like same-day delivery or potentially assembly and installation in the future.
Upon deal close, Grand Junction's employees will become Target team members, according to the company. Rob Howard, Grand Junction's founder and CEO, will become a VP of technology at Target.
"Grand Junction's technology and algorithms will help Target deliver to guests faster and more efficiently," Arthur Valdez, Target EVP and chief supply chain and logistics officer, said in a statement. "This acquisition is part of Target's ongoing efforts to strengthen Target's supply chain to provide greater speed, reliability and convenience for guests."
Target had a prior relationship with Grand Junction: Earlier this year the software company assisted the retailer with a same-day delivery pilot program at its store in New York's Tribeca neighborhood. The news of the acquisition comes as other major retailers are also looking to expand on their delivery capabilities. Aldi announced last week that it launched a delivery pilot program with Instacart in several major markets.