Cookie Chips Raises Funds; Fenwick Brands on Board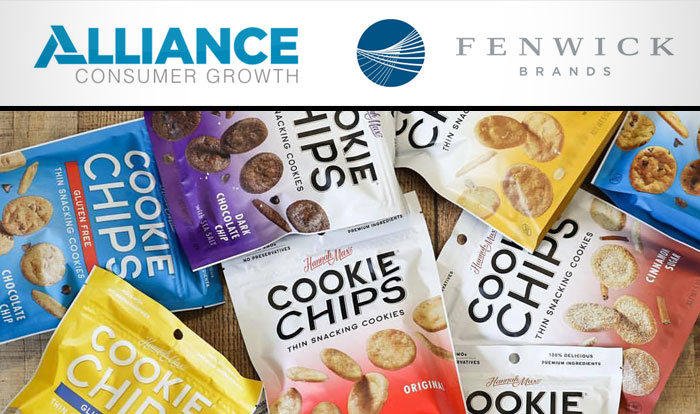 Yesterday, Fenwick Brands, a CPG investor and operator, announced the closing of a round of investment in HannahMax Cookie Chips. Previous investor Alliance Consumer Growth also took part in the round; the dollar amount of the round was not disclosed.
The investment, said Cookie Chips CEO Jane Miller, will help "fuel growth as well as further our new brand campaign: 'it never hurts to do something sweet,'" which encourages consumers to submit their "sweet deeds" and potentially win a cookie chips prize. Cookie Chips also plans to build consumer excitement by releasing limited edition flavors, pumpkin pepitas and gingered gingerbread cookies, this winter.
The investment is the first made from Fenwick's fund I, which closed earlier this month with a target of $30 million. From the fund, the group will make $3-7 million investments in CPG brands "where Fenwick's operating experience can play a critical role in scaling the business," said Melissa Baker, CEO of Fenwick. The group typically looks at brands with $5-$20 million in revenue but Baker noted that "not all revenue streams are created equal" and as such, there is flexibility in how a brand shows proof of concept. Fenwick will likely support five to six investments in the fund at any one time.
Fenwick has previously invested in natural food and beverage brands including The Jackfruit Company and Powell & Mahoney.
Elizabeth Stewart, director of investments at Fenwick, told NOSH that Fenwick's investor base and the market influenced the group's shift to a fund model. "With a committed fund, we will be able to execute upon our strong deal pipeline and focus on supporting brands post close," Steward said.
Stewart and Baker said the Fenwick team not only was excited by Cookie Chip's traction with retailers and unique value proposition, but also felt there was a strong fit with the brand's existing investors, management team and founders.
"Fenwick sees the opportunity to define the sweet snacking occasion," Steward said. "[We are] looking for investments in categories that are ripe for innovation."
In January, after speaking with experts at their annual summit, Fenwick published insights detailing the trends that are influencing consumer demand and mindset. Baker told NOSH that Cookie Chips is a perfect example of many of these consumer changes.
"Cookie Chips meets all the macro consumer trends we see in better-for-you products which continue to drive growth across most retail categories," Baker said. "While health & wellness options are growing disproportionately in the cookie category specifically, the assortment is still laden with less healthy indulgence which limits occasions and consumption. We see a different way to connect and converse with consumers and look forward to bringing a new voice to the category."