Cheese or Cheez? Proposed Bill Takes Aim at Plant-Based Foods
Dairy is having an identity crisis.
Last week Sen. Tammy Baldwin (D-Wisc.) took aim at plant-based dairy alternative foods with the proposal of the Dairy Pride Act. If passed by the House and Senate, the bill would seek to prohibit pea, nut, and coconut based foods, among others, from using terms such as yogurt, cheese, butter and milk that are traditionally associated with dairy products.
Keeping dairy in the barnyard rather than out among the crops, the proposed bill declares that dairy foods should be made from the secretions of hoofed animals only. It's a cause near to Baldwin's heart: In Wisconsin the dairy and agriculture industry generates about $43 billion a year. The Dairy Pride bill does expand the standards of dairy — but only in the sense that it grows an established regulatory standard to apply to animals beyond cows.
In the proposed legislation, Sen. Baldwin wrote that currently there is no federal standard of identity surrounding these products, leading to "mislabeling." It's part of a swarm of legislative actions defending the dairy business that have appeared of late. Baldwin's bill came one month after Reps. Mike Simpson (R-ID) and Peter Welch (D-VT) sent a letter to the FDA, asking the agency to better police plant-based products using dairy terminology in order to avoid consumer confusion. This was a driving factor in the Baldwin Bill as well.
FDA regulation CFR 131.110 defines milk as a lacteal secretion from a cow, with a similar specifications for yogurt and cheese. Rebecca Cross, counsel with a focus on branded food and beverage at Davis Wright Tremaine, said the FDA standard has been in place for over 20 years, but because there has been innovation within the food space, companies have come out with products that don't neatly fit in those boxes anymore, leaving room for interpretation.
"The way I see it, the existing standards of identity do not prohibit plant based foods from using dairy terms if they use it with modifiers," Cross told NOSH. "It's the same way that peanut butter would not then have to comply with the standard of identity for butter."
Cross pointed to numerous cases, including Gitson v. Trader Joe's in 2015, in saying that courts have completely rejected claims that consumers do not understand the differences between the dairy and dairy alternative products.
Miyoko Schinner, founder of Miyoko's Creamery, one of one of the fastest growing vegan cheese brands in the U.S., agreed, telling NOSH she thinks that assumption "undermines the intelligence of the consumer."
"I don't think people are confused by cream of wheat," she said. "I don't think anyone ever thought of putting cream of wheat in their coffee for example. Or milk of magnesia. The consumer is smart and knows what things are, so if you put on it 'almond milk' they know it's not milk from a cow."
Schinner's opinion is influenced by her dealings with the state of California, which has a strong dairy industry, and is also where Miyoko's Creamery is based. California is currently the only state with its own law regulating that only dairy products from mammals can use the standards of identity associated with milk, yogurt, cheese or butter when labeling products.
But Miyoko's Creamery, whose vegan products are sold in over 2,000 stores nationwide, has been creative in its marketing tactics. Schinner said when the state of California informed her that she could not use the word "cheese" to describe her vegan products when sold in-state, they became "cultured nut products" instead. To allude to consumers about the cheese-like flavor, the brand uses descriptive language like "aged english sharp farmhouse" or "double cream garlic herb" on its packaging.
"There isn't a single consumer out there that has looked at our product, that has tasted our product, and calls it a cultured nut product," Schinner said. "They say, 'Oh, it's vegan cheese.'"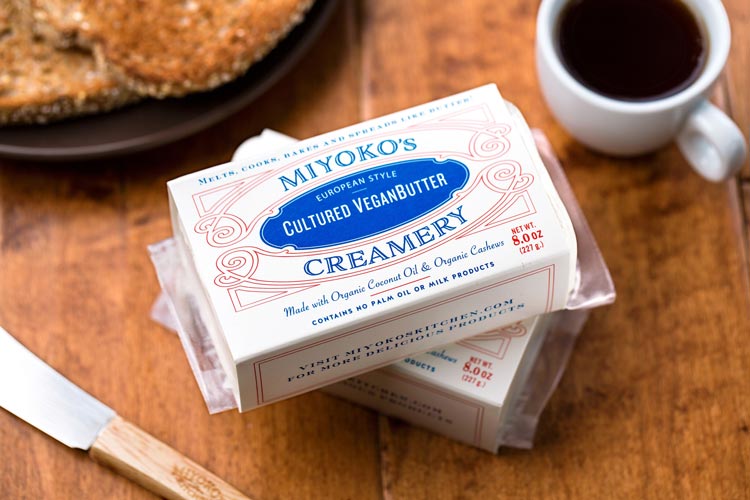 Miyoko's Creamery isn't the only brand to have issues with product descriptions in California. Leaf Cuisine calls its products "dairy-free spreads," while Heidi Ho has coined the phrase "plant-based cheeze." However, when Miyoko's Creamery recently launched its European-style cultured veganbutter, they decided to take the risk and keep the dairy terminology.
Dairy interest groups want to see the federal government follow in California's footsteps. The Baldwin legislation was endorsed this week by both the International Dairy Foods Association (IDFA) and the National Milk Producers Federation (NMPF).
The support comes as milk consumption has fallen for six years and is expected to drop again in 2017, according to a recent U.S. Department of Agriculture (USDA) report. Domestic cheese consumption may be helping to offset that slump, with a record 5.35 million metric tons consumed in 2016, up 7.6 percent from two years earlier.
"The definition of milk through the FDA is pretty clear and it does talk about milk coming from a cow, frankly," said David Carlin, IDFA senior vice president of legislative affairs and economic policies. "We have a product, cow's milk, is naturally full of nutrition, vitamins and good stuff, and we don't want people to think they are getting the same nutritional quality from other products that don't contain cow's milk."
Even so, plant-based products are in increasingly high demand from consumers. In 2015, over 36 percent of U.S. consumers said they prefered milk alternatives and used meat substitutes. Carlin told NOSH he's not against choices for consumers, but does believe the current state of labeling regulations causes "legitimate consumer confusion."
"Regardless of what courts have held what way in past, we think there is [confusion] and this is another chance for FDA to look at this and take a different path," he said.
Senator Baldwin's office did not respond to multiple requests for comment. If passed, her bill would require the FDA to issue a guidance for nationwide enforcement of these definitions within 90 days. But it may not be a battle the FDA wants to fight. Last year, Hellmann's and the American Egg Board petitioned the agency to strike "mayo" from vegan spread Just Mayo's name. In the end, the petition failed after the groups were said to have found "common ground with the FDA," and Just Mayo got to keep its name.
"I think [the bill] would force the FDA to spend more taxpayer dollars," Schinner said. "Aren't there enough problems in this world? It just seems like a really really poor use of funds."