Armed with Investment, Masienda Grows Maize Mission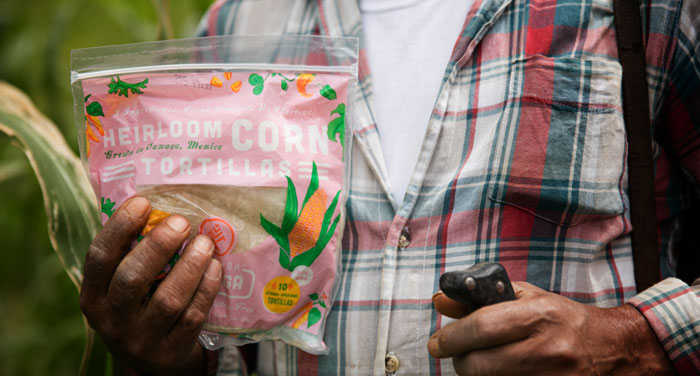 An heirloom corn supplier favored by world-renowned chefs is planting its seeds in the CPG world with the goal of democratizing corn one tortilla at a time– and it's got a slate of high profile investors behind it.
Los Angeles-based Masienda launched in 2014 with the mission of buying heirloom varieties of corn directly from Mexican farmers for high-end restaurants like Frontera and Cosme, as well as some CPG companies. Now founder Jorge Gaviria is ready to take his mission of creating a corn industry that values culture and flavor over yields to consumers.
The resulting line of tortillas, Masienda Bodega launches this month in 200 stores including several Whole Foods Market regions as well as in independent retailers. The growth is being fueled by a recently closed $1.35 million round of capital from a star-studded team of investors including James Beard Award winning chef (and CPG entrepreneur himself) Rick Bayless, Rick Schnieders, former Sysco CEO, and Village Capital. Prior to this round, the company was funded by family and friends.
"When I was Jorge's age, a fellow I had been working for in Los Angeles believed enough in me to invest in our first restaurant and without him I never would have survived," Bayless said. "I am now able to look around and see people who are at the same stage I was and sometimes you need a financial shot in the arm just to make it. I think Jorge's work is noble work and needs to be done."
The non-GMO, limited ingredient, stone- ground tortillas come in three SKUs and will retail for $3.99 per 10 pack. Gaviria hopes Masienda Bodega will appeal to customers not only with its simple ingredients, but also for the story surrounding its supply chain.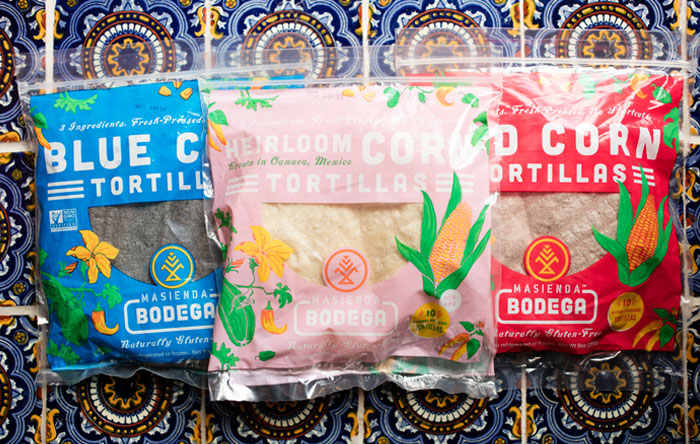 Corn was first developed from wild grasses in Mexico and for centuries, farmers there cultivated the crop. But in recent decades, interest in these heirloom, yet sometimes inconsistent, varieties has waned in favor of blander commodity corn at cheap prices. Now, Masienda is looking to provide financial incentives to encourage Mexican farmers to return to their roots.
Currently, Masienda and its 40-plus employees work with over 2,000 Mexican farmers to grow the highest quality corn at a living wage price. The company is also working with Schnieders, who resides in New Mexico, to build a second, domestic corn supply chain in the rural Southwest.
For the CPG line, which was first tested via the company's online store, Gaviria hopes to change the American consumer's perception of tortillas as a commodity product. To create brand recognition and loyalty, the company will be ramping up its in-store demos, as well as distribution. Gaviria said his goal is to be in 1,500 stores within a year.
"For us, the tortilla is not just intrinsically the way to build a game changing business that frankly feeds people better quality food across not just the country but also the world, it's also a way to tackle the supply chain that makes that product possible, which has been the basis of our whole existence to date," he said. "We fully intend on building and expanding upon that kind of vision with every pack of tortillas that we sell."
Masienda will continue to focus on its foodservice arm as well. In addition to its previous line of dried corn kernels, the company will wholesale its new tortilla line. Not only will the restaurants benefit by saving time and resources needed to process the corn themselves, Gaviria said, but it will also assist Masienda standardize the brand experience.
"People would say to us they had a Masienda tortilla at these two different restaurants and they tasted totally different," he said. "And we were like, 'well, it was not a Masienda tortilla.' It's our corn and we are really proud of it, but we had no control over that experience."
Gaviria told NOSH the company will also have to learn how to best communicate directly with consumers, who are generally less educated than a chef. While the latter care mostly about ingredient quality and sourcing, Masienda found that consumers look more at tortilla price and functionality. Namely, that their tortilla doesn't fall apart. Bayless told NOSH he plans to drawn upon his own experience, having expanded his brand from restaurants to retail with the Frontera line, to help Masienda overcome this challenge.
While Masienda was founded with the goal of empowering Mexican and Latino farm communities, Gaviria sees the path to CPG success through the wider American audience. Cornering the ethnic market will take more time, he told NOSH, due to Latino consumers' strong brand loyalty and opinions.
"The idea is for this to be accessible to folks from all walks of life, from natural to conventional retailers. Over time, we know we'll be able to get the efficiencies in place to get even more competitive," he said. "The name came from that because we want this to ultimately be everywhere from Whole Foods to corner bodegas in every state and then beyond. But for right now, I think the clearest market entry point for us is in the mainstream audience that doesn't have that kind of experience or opinion about a tortilla."