5 Takeaways From IRI's 'State of Snack' Report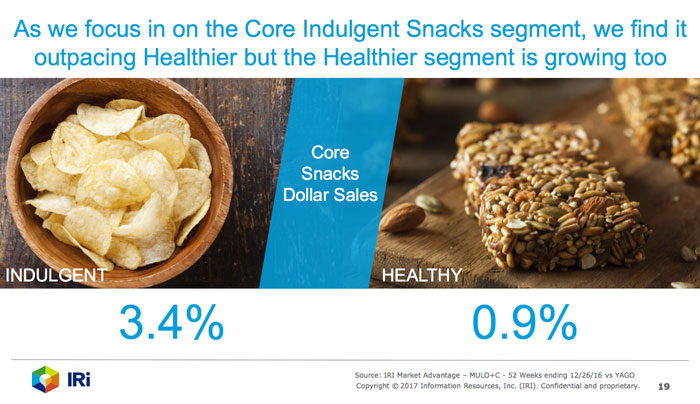 The snack industry had its own "State of the Union" last month.
While at the Sweets and Snacks Conference in Chicago, Illinois, IRI snack industry expert Sally Lyons Wyatt reported on the "state of snack," sharing the group's latest research on 2016 category performances and marketplace predictions for 2017. Here are five noteworthy takeaways from her report.
Consumers are snacking more often than ever before.
IRI research states that though daily snacking averages have remained the same, data showed a rise in the number of consumers snacking more than five times per day in 2016. About 14 percent of people ate five or more times a day outside of their prescribed mealtimes. This is continuing into 2017, with the number of high-snacking consumers up almost three percent already from last year.
Snacking is driving dollar sales, but not units.
Due to more options, pricing, premiumization and varied store locations, unit sales are staggering in snacking. CPG saw the snack dollar sales change go up about a percent, whereas the unit sales change saw only half that jump.
Lyons Wyatt noted that the top categories that saw dollars outpace unit sales are "riding on higher priced offerings and expanded consideration set." This can be seen in products like popsicles, chocolate covered pretzels and dried fruit.
Indulgence is outpacing healthy as a growing snack category.
Though hungry consumers are increasingly reaching for healthier options, IRI data shows they're also giving themselves the green light to indulge more often– and it's resulting in that category's growth outpacing healthy snacks for the first time in years. Indulgent saw 3.4 percent growth in dollar sales in 2016, whereas healthy saw just under one percent sales growth.
Of IRI's 10 core grocery categories, only four saw growth in both dollars and units in 2016. And of the growing sectors, three fall under indulgence: ice cream, salty snacks and cookies. This trend is holding true in 2017. So far, only two categories, ice cream and salty snacks, grew in both dollars and units. IRI credits the increased popularity of indulgence in part to the growing halo around whole-fat foods, especially within dairy.
New consumer definitions of health and wellness are driving innovation and growth.
Consumers desire for a balanced lifestyle is affecting more than indulgence sales. While they are having their cake (and eating it too), they are also gravitating toward options that position themselves as healthy products with functional attributes. Lyons Wyatt said it is not just about natural or organic anymore, but rather a way of life– and it's impacting the types of snacks each segment consumes.
This can also be seen in the rising importance of product attributes to consumers. Data shows that consumers are seeking out nutritional needs and want them communicated to them on packaging. Lyons Wyatt noted that Chobani bringing high protein to the yogurt category as a "perfect example."
Packaging is factor in over half of consumers buying decisions.
Packaging is having an effect on more than just big candy sales. IRI found that 53 percent of consumers state that product label and packaging influence their snack decisions. And packaging is even more influential to millennials. About 60 percent of consumers between 18 and 24, and 62 percent of consumers between 25 and 35 said packaging influences their snack buys.
This is why in 2017, IRI is predicting a "portable snacking evolution." Lyons Watts thinks the industry will continue to see a rise in resealable packs and tins, which have already delivered value for consumers looking for convenience in the natural market with brands like Krave and BarkThins.