301 Invests in Purely Elizabeth's 'Proactive Nutrition'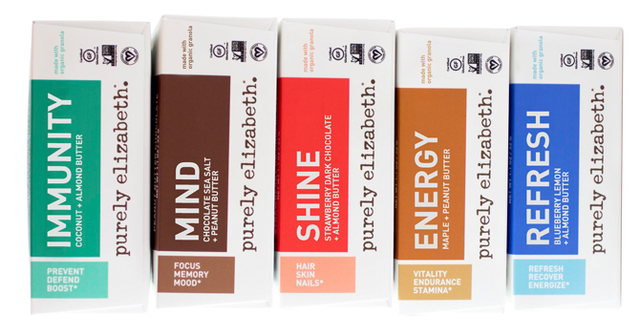 Granola and hot cereal brand Purely Elizabeth today announced a $3 million investment by General Mills' venture arm, 301 Inc. The investment marks 301's eighth addition to its portfolio and eight-year-old Purely Elizabeth's first outside investment.
The funding will most immediately go towards increasing headcount and marketing expenses.
The brand began with a line of baking mixes, which are no longer on shelves, and ancient grain granola. It later expanded to hot and cold cereals as well as other granola varieties, such as probiotic and grain-free. Many of the products differentiate themselves with the addition of "proactive nutrition" ingredients such as coconut oils, hemp, superfood seeds, GanedenBC30 probiotics and less common grains like amaranth and millet.
Purely Elizabeth's products are currently sold in just over 10,000 retailers, including Target, Whole Foods and Publix, and last year the brand did just over $12 million in sales.
Despite its rising success on shelves, Founder and CEO Elizabeth Stein felt the company needed to seek investment in order to take the brand to the next level.
"We have been self-funded since inception, and I think that I always felt like I had to get to 'X' milestone and at that point would take on outside funding," Stein told NOSH. "My vision for the brand was so much more, really from day one, then being a breakfast company. But something in a greater vision, being more of a lifestyle company, getting into a lot of different categories in the market. And in order to really scale up, and have that greater vision, we [needed] more strategic expertise and needing a partner to do that."
301 General Manager John Haugen said the group was drawn to Stein's passion and the line's unique ingredient additions. Stein was at the forefront of using ingredients such as chia and hemp, Haugen said, and continues to be a trendsetter. While General Mills has embraced what Haugen deemed more "mainstream" health benefits in its cereals, such as switching to whole grains, removing artificial colors or exploring gluten-free varieties, Purely Elizabeth, Haugen said, has explored more forward thinking enhancements such as probiotics and use of novel grains.
301 also sees the brand's possibilities for expansion through the rest of center store.
As part of this center-store attack, at Natural Products Expo West conference, Purely Elizabeth launched a line of mushroom-enhanced granola bars. The new line uses a blend of different mushrooms created by Om, Organic Mushroom Nutrition. With five varieties, the bars will retail for $1.99 and be sold individually in the nutrition bar (rather than granola bar) set. The bars will be positioned as a premium, limited ingredient, nutrition-enhanced option to the competition.
According to Haugen, this premium angle separates Purely Elizabeth from both the brand's competition and General Mills' own lines of cereal. "It's a slightly different consumer," Haugen told NOSH. "The experience that Elizabeth [Stein] is always striving to is trend forward… and they definitely are premium and I would contend that they always will be or will always strive to be."
When Purely Elizabeth first launched its line of ancient grain granolas in 2009, their $6.99 MSRP was one of the highest price points of the granola set. Stein told NOSH that her success at this price gave other brands "permission" to explore more premium offerings as well. While typically other small brands might lower their prices as they see scale, Purely Elizabeth has never dropped prices. Stein says that keeping the price the same doesn't mean more profit but rather a standard margin.
"Our margin starting out was so low, that now it's really just coming to be in a normal place that we've gained more efficiencies," Stein said. "It was really kind of the opposite in that I saw at the beginning it was gaining these efficiencies and that's how we priced it. And we were already so far above the marketplace that I didn't feel like we had permission to be, say, $9.99 then."