Tessemae's to Switch to Organic & Reformulate Dressings
Quickly putting a recent $5 million investment round to use, the team at Tessemae's All Natural is re-launching their line of salad dressings and condiments. On the list of changes are organic certification and an accompanying ingredient reformulation. The new product line will roll out this month in over 5,000 stores where the brand is sold.
The plan to switch to organic was always in the cards, but not this soon, said CEO and co-founder Greg Vetter.
"It's always been a goal of ours, but I don't think it was part of our plan in this time frame," Vetter said.
But once the funds came in, and the company found a supplier of high quality organic olive oil, the timing seemed perfect. Vetter said key company players realized "we do have a lot of money in the bank, we can make this type of switch right now, and we could potentially pull it off for January 1."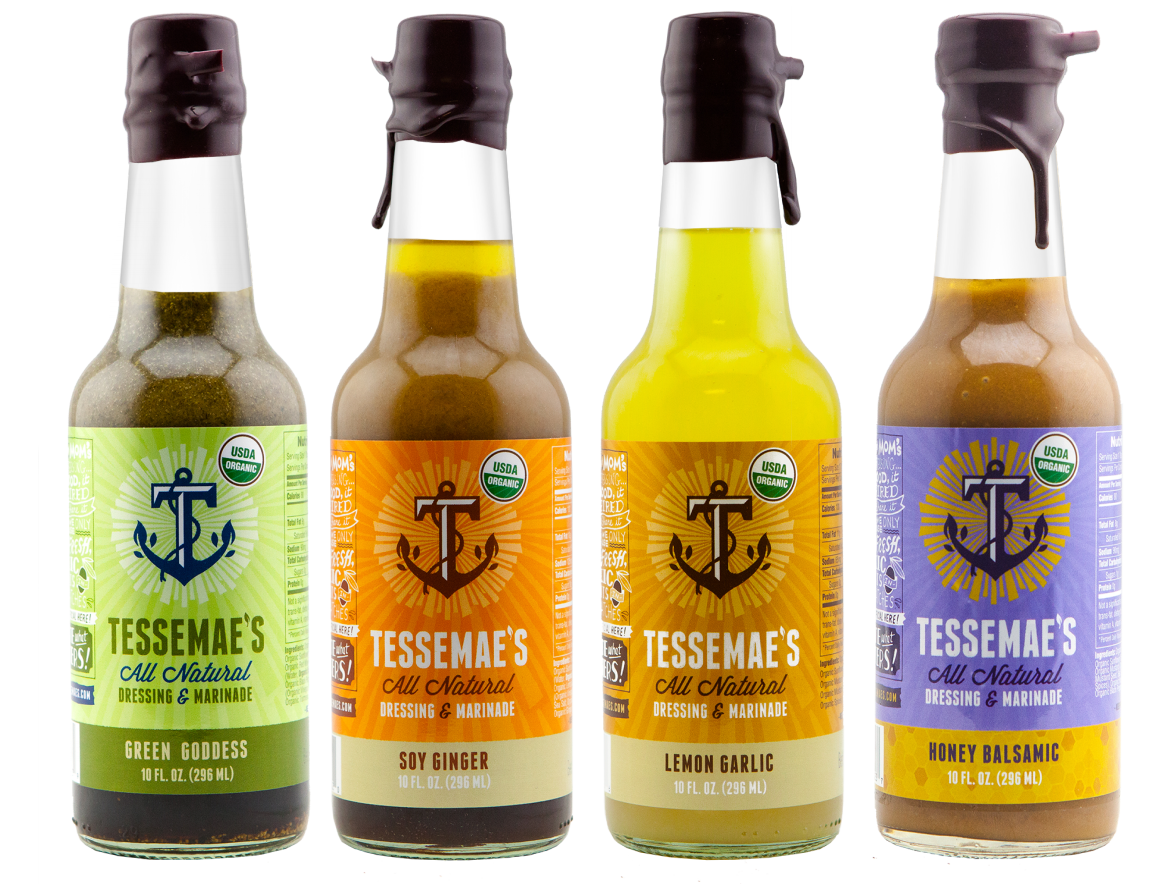 One of the big hurdles in switching was making sure that flavor remained consistent. Tessemae's previous olive oil supplier was based in Europe and hesitant to go through the U.S. organic certification process.
But at a certain point, being sold in the produce department wasn't enough.
"We were tired of saying, 'okay, we have this delicious non-GMO proprietary blended olive oil from Europe and that's okay because it's traceable, but why can't they get it to organic?'" he said.
The three Vetter brothers started the company based on their mother's dressing recipe. Moving to organic was a priority because "we always want to make products that our families want to buy," Vetter said.
For his family of four, soon to be five, that meant organic.
Originally Tessemae's thought it wouldn't receive the USDA organic seal in time to make a full packaging switch possible. However, good communication, a positive attitude, and an infectious desire to make it happen went far.
"We're real and we're doing it for real reasons. We're authentic and I think [the certifiers] understood that," he said.
As part of the switch, the company also decided to reformulate the recipe to add sunflower oil during the production run, so the dressing won't congeal as much.
Vetter noted that Tessemae's always thinks about what its customers want. Namely that "they want taste, they want better-for-you, and they want ease of use." At a certain point, the company realized that the formulation was making the product harder to use and as a result, wasn't worth continuing.
The investment process also helped the company realize other ways they could improve its products and systems.
"When you go through the due diligence process with someone that doesn't know you, and you answer a lot of questions that you've never been asked before, you then start to think differently as to why certain things are happening," Vetter said.
One example: during the due diligence process, the Vetter brothers found that their e-commerce site grew at a rate of 15 percent each month. This may have seemed like great news — until they found out that it was because consumers weren't able to find the products and flavors that they wanted in stores, largely due to out-of stocks or poor merchandising. The company is now investing in installing glide racks into its sets so that bottles are easily moved to the front and kept organized. As a result, retailers can easily see what products need restocking and reordering.
Vetter said 2016 will be an exciting year for the company. Tessemae's is continuing to add retailers, expand its product line, focus on single-serve dressing packages, and making the company as sustainable as possible. On the R&D side, there are several new products in development, including a new non-dairy ranch dipping cup.