The Scoop: Minus the Moo Plans to Expand
When longtime friends Gwen Burlingame and Katy Flannery launched their lactose-free ice cream, Minus the Moo, at Boston's South End Open Market in 2015, the duo never expected that in less than two years they'd both be working full time to expand their business and call Boston Beer Company a supporter.
Minus the Moo started in 2015 as a project of passion for cofounder Flannery, who wanted a way to enjoy her favorite dessert: ice cream. About 75 percent of the world's population, including 25 percent of those in the U.S., have difficulty digesting milk, according to the Physician's Committee for Responsible Medicine. Flannery is one of them.
"I'm lactose intolerant and grew up absolutely loving ice cream," she told NOSH. "There's a lot of non-dairy alternatives out there on the market, but if your friends are not lactose-free or your family is not lactose-free, then they are likely not going to want to share the nondairy ice cream with you."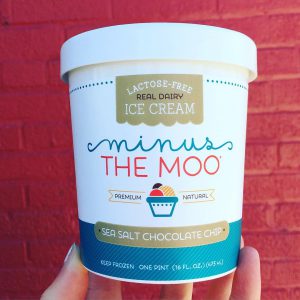 So Flannery, then a nurse at Boston Children's Hospital, found herself in the kitchen. Using lactase enzymes, she was able to formulate Minus the Moo's recipe to remove lactose enzymes yet maintain the taste and texture of traditional ice cream made with locally-sourced, organic, and fairtrade ingredients.
"We call it 'equal opportunity enjoyment,'" Flannery said. "It's not just for the lactose intolerant consumer, although they are our primary demographic. It's also that family where maybe one person is lactose free, but they can all share the same kind of ice cream and no one feels left out."
Burlingame, who has a background in business, was working in New York City when Flannery first created her first batch of ice cream. After reuniting at an alumni event, the friends decided to launch the business.
"I don't think that there is anything else that could have ever competed with this great opportunity to go to work to do something that you absolutely love and fight for something that you believe in, and then to do that with your best friend," Flannery said.
The company has already come a long way since its humble beginnings. In April 2016, Minus the Moo launched its product into three independent grocery stores in Boston, and is now available in 22 Boston-area locations, including 12 Whole Food Markets, nine independent grocery stores and Amazon Fresh. The ice cream on average retails at $8.99 per pint.
The brand also recently won the Samuel Adams Brewing the American Dream's fourth annual national Pitch Room competition earlier this month. The competition, which focuses on helping small CPG business owners get feedback on their sales pitches and gain exposure, featured seven companies, all vying for $10,000 and mentoring from Samuel Adams.
Boston Beer Co. founder and brewer Jim Koch, who was one of five judges, said every business that presented was impressive, but that Minus the Moo stood out from the rest.
"[There are ] two things that we always look for — because you can't be successful without these two things," Koch said. "A really great product — and their ice cream was delicious and was also lower calorie than a normal ice cream, but you really gave up nothing in flavor and taste to get something healthier…. The second thing is they were really passionate about it."
Now with some extra capital to spend, the duo said they are looking to expand within Massachusetts and the New England area in 2017. They added they are also looking to add a few new employees so they can devote their time to being the faces of the brand and focusing on selling and demos.
Burlingame said they hope the expansion can occur through Whole Foods, but also through some new retailer partnerships they hope to form in the new year. The brand plans to focus on more grassroots marketing efforts to build brand awareness, as well as expand their flavor profiles.
"We have been focusing at this point on more of the millennial demographic because of the type of retailers we are in," she said. "But looking at what the future could hold for the types of flavor profiles or the types of formats that we are bringing about, we want to make sure we are appealing to people of different ages or different people who may want the product."