Maple Hill Creamery Takes in Moo-lah & Works to Define Grass-Fed
Maple Hill Creamery announced today that it has accepted a minority investment from Sunrise Strategic Partners. The organic, grass-fed dairy brand plans the use the capital to continue to grow its presence in stores and build brand awareness.
The announcement follows investment rounds from family and friends as well as a 2015 round of institutional funding that counted Seed 2 Growth (S2G) Ventures and InvestEco among investors. Maple Hill was drawn to Sunrise Strategic, which is led by Boulder Brands Founder and former CEO Steve Hughes, for the group's expertise with natural food brands.
Terms of the investment were not disclosed.
"Raising capital was not the problem. The problem we're trying to solve is to bring capital to the table that also came with value add," Maple Hill's CEO and Founder Tim Joseph told NOSH."That's why we ended up connecting with and working with Sunrise. It's really to help us take it to the next level."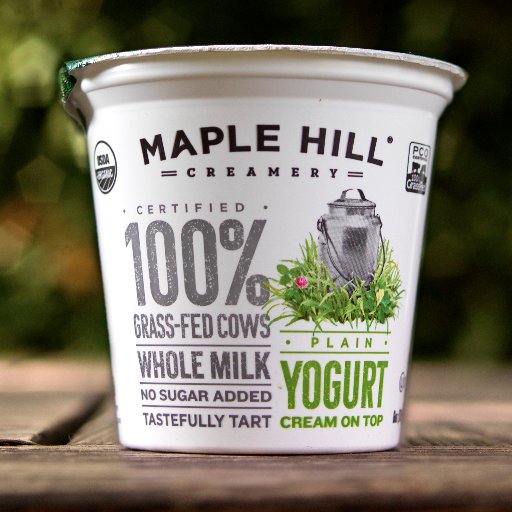 Founded in 2003, Maple Hill did not start producing yogurt until 2009. In just five years, the brand has become one of the top-selling grass-fed dairy brands on shelves. The brand now produces whole milk yogurts, drinkable yogurt, kefir and cheese with a milk line soon to launch. Joseph told NOSH that each of Maple Hill's lines have seen 50 to 100 percent growth in sales over the past year.
While grass-fed has become a hot buzzword in the meat industry, Joseph and Hughes believe the trend is still in the early stages.
"I was in Boulder in '97 when organic happened," Hughes said. "I think this is going to be jarring to the dairy industry when the consumer really gets the elevator pitch on grass-fed vs organic. I think for a Millennial mom with money, once they get it they're never going back."
There also is some consumer confusion, says Hughes, as to the difference between grass-fed and organic. Some shoppers don't understand that organic dairy cows, for example, can still be grain fed or live in crowded conditions.
"When consumers realize that what they thought was being done [with organic] isn't, that's the light switch," Joseph noted. "It's like 'oh, grass-fed is what I envisioned all along but isn't happening.'"
To this extent, Maple Hill plans to educate consumers about grass-fed products and how the brand embodies these standards. The company recently revised its website and packaging to emphasize the grass-fed aspect.
Joseph says that Maple Hill is also joining with other brands, like Organic Valley and Trickling Springs Creamery and organizations, such as the American Grassfed Association, to develop a set of standards for grass-fed dairy products in an effort to separate which brands may be using grass-fed as simply a marketing buzzword.
"If you go pull the SPINS database, with the products that 'have a grass-fed attribute in dairy,' Hughes said, "It's like off the [charts] in terms of not accurate."
Once standards are established, Hughes believes retailers will need to help emphasize the difference. Natural products retailer Whole Foods Market already rates produce, meat and seafood options and Hughes would like to see this carry over to dairy.
Unlike other yogurt brands, which are testing innovations such as mix-ins and savory flavors, Maple Hill plans to continue focusing on emphasizing its quality and farming methods.
"We're in the 'keep it simple end,' that's in our DNA. We try to reflect in our products the DNA of our whole supply chain which is clean label, good high quality product that will stand the test of time,' Joseph told NOSH. "We don't have to spend a lot of time on 'innovation' because we have an authentic story and innovation that starts with the farm…the white mass, that's in our product is the innovation."