Flourish Pancakes Launches Birthday Cake Mix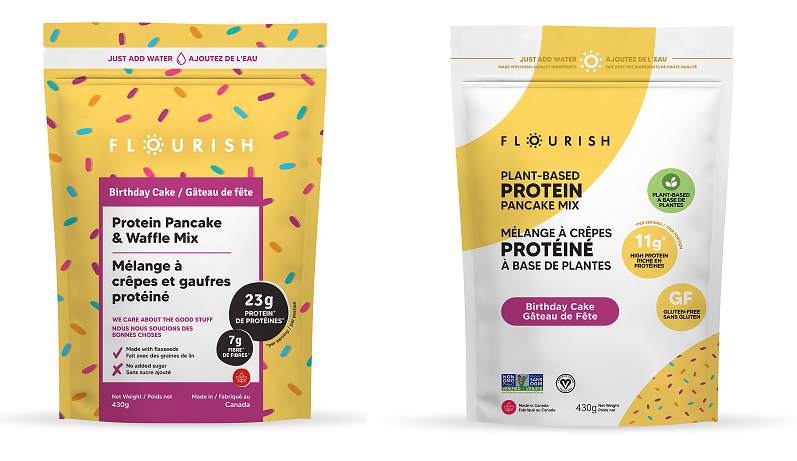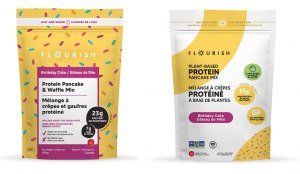 TORONTO, Ontario – In celebration of Flourish Pancakes' third birthday, the company behind the highly popular protein-rich pancake and waffle mix has launched its annual limited-edition product offering, Birthday Cake, across Canada and the United States. After record-breaking sales in 2019 and 2020, the mix is available exclusively through the company's online shop, and only while supplies last in the month of July.
This year's birthday mixes include the classic whey-based protein line, and the addition of the new plant-based and gluten-free line launched this past April. Dishing out a healthy take on the traditional birthday treat, the mixes are high in fiber and protein, low in sugar, boasting natural sprinkles made with organic spirulina – freeing the mix from any artificial flavours or colours.
"We're thrilled to celebrate Flourish's third birthday and to now offer our plant-based community the limited-edition mix this July," said Andrew Maida, Founder of Flourish Pancakes. "Each year marks an exciting time for the company as it continues to expand across North America, and we're grateful to include our customers in this milestone – plus, who doesn't love having cake for breakfast?"
A convenient breakfast choice that is packed with nourishment, the 'just-add-water' mixes can also be used in a variety of recipes to be enjoyed throughout the day, including protein-rich birthday cake crepes, and hearty (but healthy!) muffins – and many other simple but versatile recipes, found on Flourish's blog.
About Flourish Pancakes
On a mission to improve healthy eating habits, Flourish Pancakes elevates the breakfast experience by transforming indulgent foods into dishes that fit a healthy lifestyle. Blending convenience, nourishment and taste, the proudly Canadian company uses only pure ingredients, in addition to no added sugar, artificial colours or flavours in its product line. The innovative 'just-add-water' mixes were founded by entrepreneur Andrew Maida in Toronto, Ontario; inspired by the belief that eating healthy shouldn't be a chore.
For More Information:
https://www.flourishpancakes.com/