Tea Drops Adds Dessert Tea Collection as Core Offering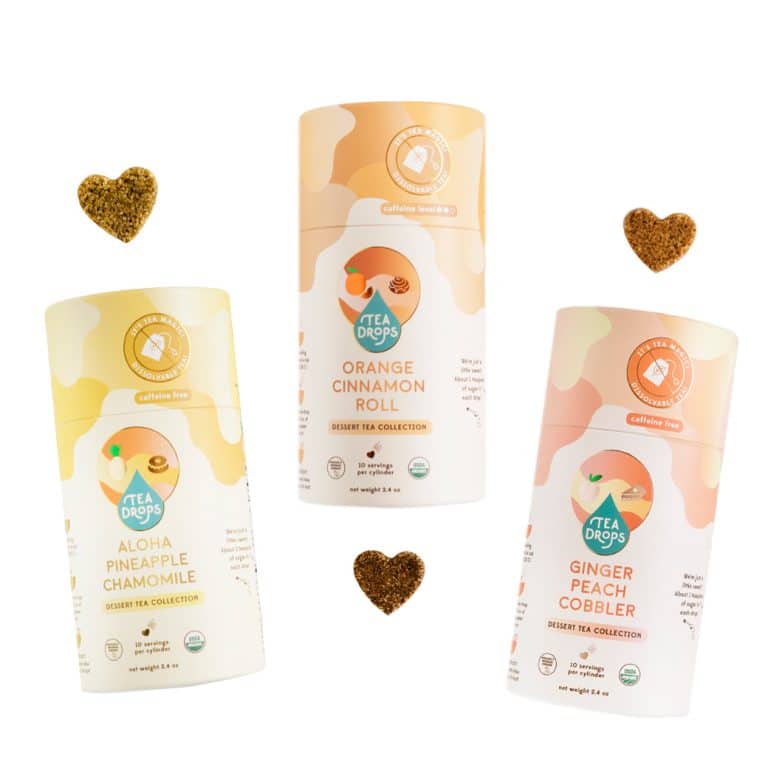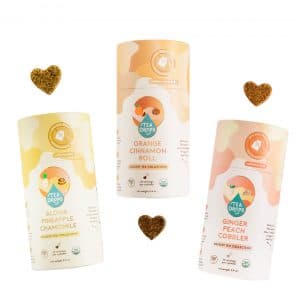 LOS ANGELES— California based Tea Drops, a woman-founded and led tea company, announced the launch of their new dessert collection. Created to be enjoyed post-meal, the Dessert Collection by Tea Drops is an indulgent line of dessert inspired teas featuring caffeine-free varieties such as: Orange Cinnamon Roll, Aloha Pineapple Chamomile and Ginger Peach Cobbler – inspired by Chrissy Teigen's love for the brand. These dessert inspired teas will be added to the existing nine varieties, including Thai Iced Tea, Chai Latte and a seasonal Pumpkin Spice.
The company continues to push the boundaries of tea innovation, while continuing to foster an ethical and sustainable supply chain – manufacturing teas that are fair trade, organic, and kosher certified. The dessert flavors serve as guilt-free, low-carb alternatives to traditional, decadent dessert – containing less than 25 calories a drop. The dessert collection is mostly caffeine-free (sans Orange Cinnamon Roll) and includes a medley of various spices that can be enjoyed either hot or iced.
After years of research and the initial dessert launch in 2018, the company's intent was to make the collection a limited-time offering during holidays. However, fans have come to love the convenience, deliciousness and unique profile of all flavors. Tea Drops believes it will enable customers to enjoy moments of self-care with their favorite flavor(s).
"Offering a decadent yet guilt-free approach to desserts in fun, delicious blends supports our mission to create out-of-the-box magical tea moments that connect you to what's important," said Sashee Chandran, CEO and founder of Tea Drops. "From our core Tea Drops collection, to mood inspired Tea Sprinkles, to our new dessert tea collection – we are continuously pushing the boundaries of tea innovation. In the spirit of marrying both uniqueness and convenience in the tea category, we will continue to deliver magical tea experiences rooted in our core values of community, ethical sourcing, and transparent ingredients," Chandran says.
About Tea Drops
Founded in 2015, Tea Drops is a woman and minority owned, innovative tea company with a mission to inspire human connection through tea. Tea Drops ethically sources all of their organic teas, and sheds about 20% less waste than traditional tea bag packaging. Tea Drops has become a favorite among new and experienced tea drinkers alike, launching innovative tea experiences that merge flavorful blends, unique product formats, and convenience. Tea Drops is award winning, taking home the top 2020 Direct Brands to watch by IAB, and recently featured in Oprah Magazine, People Magazine, and Forbes.
Tea Drops will be sampling at Expo West – Booth 9111. Please drop by and grab a cup of tea!
For additional information on Tea Drops, please visit www.myteadrop.com.
For More Information
myteadrop.com/collections/dessert-collection