Runamok Maple Introduces Limited-Edition Cocoa Bean-Infused Maple Syrup for Expo West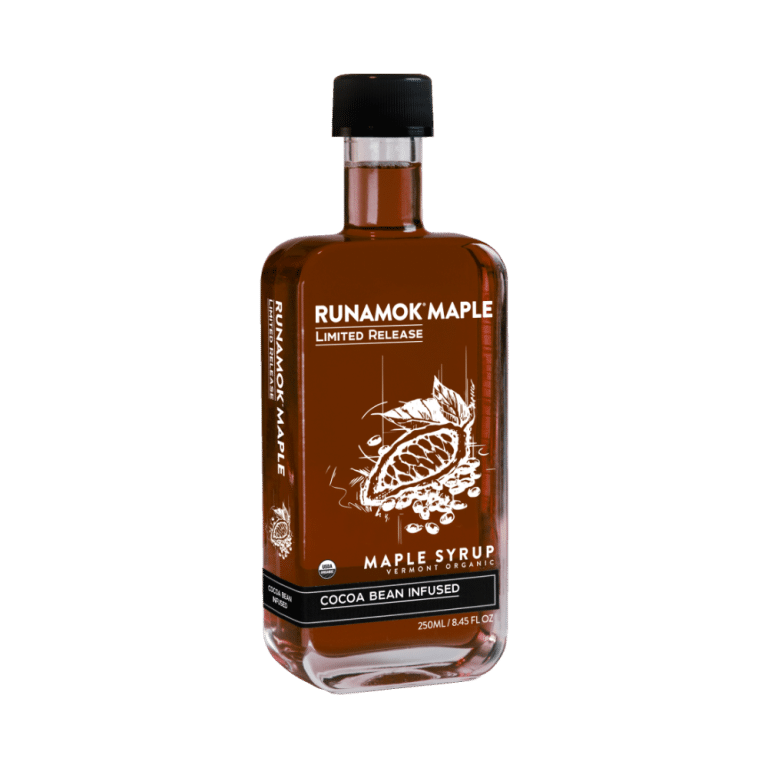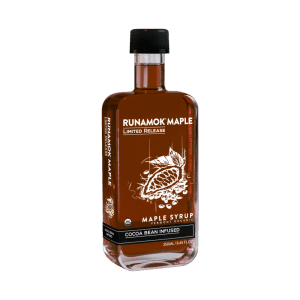 CAMBRIDGE, Vt.– Runamok Maple, a Vermont-based producer of pure, infused, barrel-aged, and smoked maple syrups, is excited to introduce a new limited-release organic maple syrup flavor: Cocoa Bean-Infused. This decadent syrup has been infused with organic, roasted cocoa nibs, giving it a mouthwatering chocolate flavor that pairs well with any sweet treat, including waffles, crepes, cakes, ice cream, and hot or cold milk.
For this latest creation, Runamok Maple takes its organic maple syrup and infuses it with crushed-up cocoa beans (referred to as nibs) to produce a syrup that dessert lovers will absolutely adore. While most other chocolate toppers on the market use up to 15 ingredients to acquire a "natural flavor," Runamok Maple prides itself on using just two, organic, all-natural ingredients to make its heavenly new offering. In fact, the brand trialed dozens of different beans before settling on the best cocoa nibs.
"Cocoa nibs are chocolate in its purest form," said Runamok Maple co-founder Laura Sorkin. "We found that combining these dried, fermented, and unprocessed bits of cacao beans with our maple syrup created a final product that was complex and rich in chocolate flavor. We were blown away with the taste, and the best part is that we achieved this amazing flavor using the only 'natural flavor' we know of: nature itself."
Led by husband and wife team Eric and Laura Sorkin, the Runamok Maple team has a passion for expanding people's horizons when it comes to how maple is applied as a food ingredient. The rich and delicious Cocoa Bean Infused Maple Syrup is wonderful drizzled over ice cream, mixed into hot or cold milk, or served atop waffles, crepes, and cakes. A true chocolate lover's syrup, Runamok Maple's new limited-edition release is the perfect item to kick the dessert table up a notch and keep guests coming back to drizzle on more.
Priced at $16.95 for a 250 mL bottle, Cocoa Bean Infused Maple Syrup will be available at Expo West for both consumer and wholesale purchasing. Runamok Maple's gourmet syrups are available at retailers throughout the country and online at runamokmaple.com. The syrups can be shipped anywhere in the U.S., as well as to select international locations. For more information about the brand, its collection of organic maple syrups, its recipes, and more, please visit the website.
For More Information
runamokmaple.com