Modern Table Unveils New Line of Savory Vegan Pasta Meals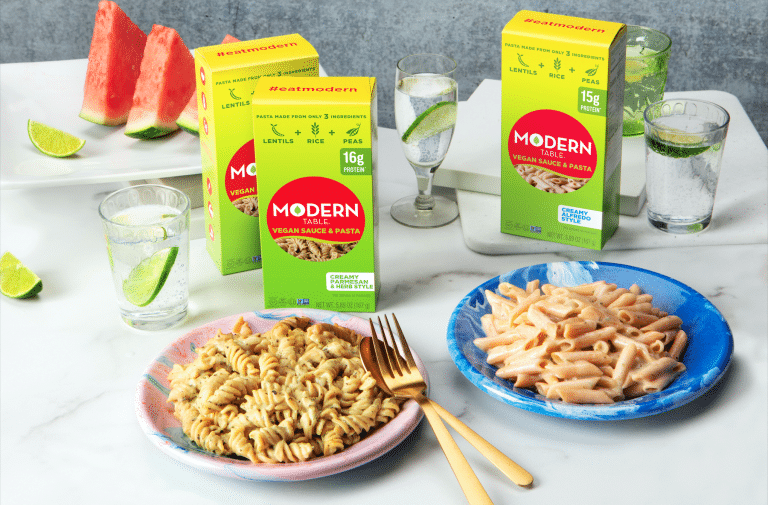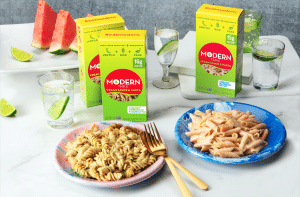 WALNUT CREEK, Calif.— Modern Table, maker of delicious plant-based pasta alternatives, has revealed a brand new dairy free Sauce & Pasta line with two mouth-watering new flavors, Creamy Alfredo Style and Creamy Parmesan & Herb Style. Both varieties include complete-protein, lentil-based pasta with lactose & dairy-free sauce for a rich and satisfying meal. Both flavors are certified vegan, Gluten-free, and Non GMO Project Verified and will be available at Whole Foods nationally starting May 1, 2020.
"More and more consumers are looking for a healthy, satisfying, flavor-packed pasta meal without the worrisome ingredients of traditional pasta," says Rachel Ercole, Brand Marketing Manager at Modern Table. "What really sets Modern Table apart from other alternative pastas is our taste and texture. We introduced our Vegan Mac in early 2019, consistently winning 3rd party taste tests across multiple media outlets. We're hoping these two new flavors will be just as popular."
In addition to their rich and savory taste, both new dairy free pasta meals boast 15g-16g of protein per serving and are full of complete protein. Three simple ingredients  – lentils, rice and peas – together make a complete protein pasta delivering all nine essential amino acids with a low glycemic index for long-lasting energy, good digestion and improved muscle health.
The Creamy Alfredo Style is offered with complete protein rotini pasta while the Creamy Parmesan & Herb Style is made with complete protein penne pasta. Each box serves two people and can be prepared in just 15 minutes or less, making it an easy choice.
Both flavors are available starting May 1, 2020 in Whole Foods & the Modern Table Amazon web store for $3.99 MSRP.
For more information please visit www.moderntable.com and follow on Facebook, Instagram, Pinterest and Twitter.
About Modern Table
Modern Table is about eating with a Modern Mindset. Because we believe the foods we need to eat can also be the foods we love to eat, we strive to find new solutions that make it easier to establish healthier eating habits and sustain them. That's why we're passionate about providing plant-based meal solutions that taste the best, are easy to prepare and give you the nutrients your body needs. Whether you're all-in or just veg-curious, Modern Table has got you covered. Our plant-based pasta is high in complete protein and low glycemic, so you're guaranteed to feel full after eating it and feel energized longer. Our sauces are also plant-based delivering delicious dairy-free options ready in 15 minutes or less. All Modern Table products are made with clean ingredients, are GMO-free and gluten-free with no artificial preservatives, and are available at www.moderntable.com and nationally at Whole Foods, Wegman's, Kroger, Amazon and more. Join us and #eatmodern.