Joolies Debuts New Organic Date Syrup Flavors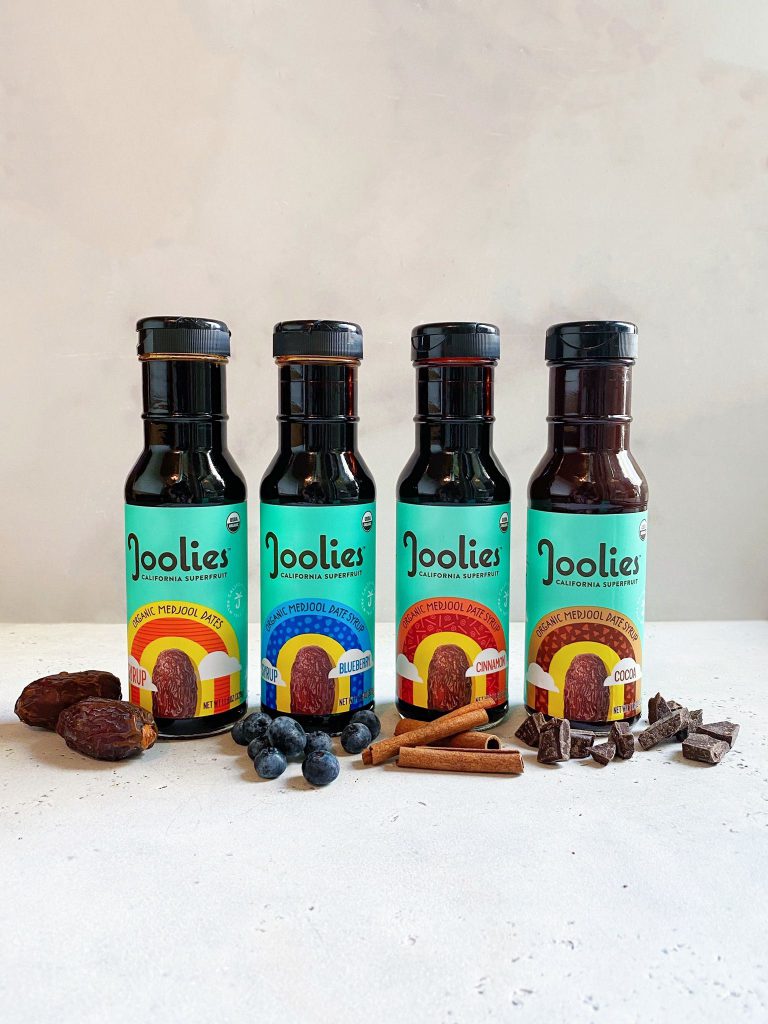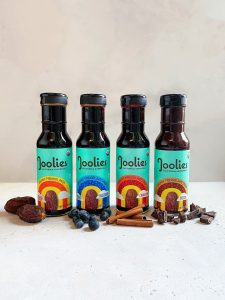 LOS ANGELES– Joolies, grower of organic California medjool dates, is once again changing the date-ing game with its unique organic medjool date offerings, expanding its product lineup by releasing three new date syrup flavors to accompany its Original organic medjool date syrup.
The new syrup flavors are made with four or less ingredients. They can be used in place of traditional sweeteners, like honey, maple syrup, or chocolate syrup, and can be drizzled over ice cream, added to coffee or tea, used on pancakes or mixed into oatmeal. Each syrup flavor will bring back sweet childhood memories.
Blueberry: A fruity way to elevate Saturday morning pancakes. Ingredients: Organic Medjool Dates, Organic Blueberry Juice Concentrate and Organic Vanilla Extract
Cocoa: Picture an indulgent hot fudge sundae with notes of organic cocoa. Ingredients: Organic Medjool Dates, Organic Cocoa, Water and Sea Salt
Cinnamon: Tastes like the most sophisticated bowl of Cinnamon Toast Crunch. Ingredients: Organic Medjool Dates, Organic Cinnamon Extract and Sea Salt
Each 10.8oz syrup is packaged in a sustainable glass bottle with an easy pour spout. These products are the perfect sugar alternatives for shoppers looking to reduce their refined sugar intake. Joolies' date syrups taste delicious and are made with simple, clean ingredients. They contain no added sugars, no artificial flavors or colors and are vegan, gluten-free, low glycemic and paleo friendly. They are made with organic medjool dates that are grown on a family farm that is dedicated to organic farming with no pesticides, herbicides, or fungicides.
"Our goal at Joolies is to celebrate the organic medjool date and find new ways for consumers to enjoy what we like to call a California Superfruit." said Mark Masten, CEO. "These new syrups pair the organic medjool date with classic, familiar flavors that are versatile and downright delicious. It may be a healthier swap to traditional sweeteners, but it's also an upgrade for your tastebuds."
In addition to its palate pleasing taste, date syrup wins on nutrition as well. Joolies medjool date syrup contains antioxidants, magnesium and potassium. Plus, it has a lower glycemic index than maple syrup or honey.
Joolies' new syrups retail for $9.99 and can be found in the alternative sweetener aisle at retailers like Bristol Farms, Lazy Acres and hundreds of other KeHE retailers like select Piggly Wiggly, Pete's Fresh Market and Mother Earth Natural Foods to name a few. They will also be available online at Thrive Market as well as coming soon to Joolies.com and Amazon.com.
About Joolies
Joolies brings delicious, organic medjool dates from our palms to yours as a delicious, healthy on-the-go option for snackers everywhere. Medjool dates, also known as the king of dates, are a great source of energy, have a low glycemic index, and are full of beneficial nutrients. To ensure the best possible quality, Joolies dates are handpicked from the tree and carefully packed at peak ripeness. The Kohl Family Farm has been producing medjool dates for the past two decades and has honed their craft to present Joolies to the world. A joint partnership between the Kohl Family Farm and Venice Brands, Joolies is on a mission to share the nutritious goodness of organic medjool dates grown in the sunny Coachella Valley of Southern California. Learn more at  www.joolies.com and share how you're date-ing @jooliesdates.