Worthy Announces New Blendie Bowl Flavor and Updated Packaging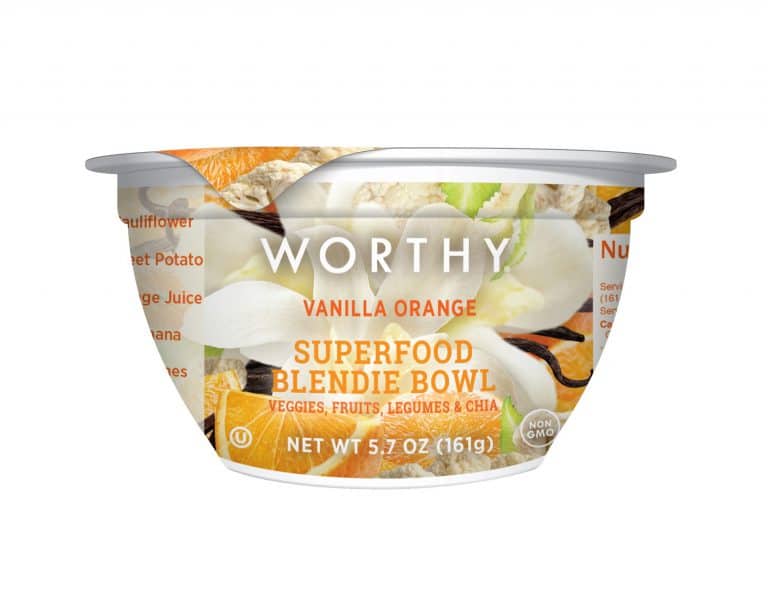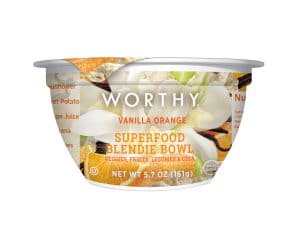 CHICAGO– The dynamic mom duo that created an entirely new category of plant-based snacks in 2017 is "re-launching" the Worthy Blendie Bowl with a refreshed look, integrated consumer campaign and new flavor.
The Worthy Blendie Bowl broke into the exploding plant-based category with the unique proposition of portable, ready-to-eat, well-rounded nutrition in treat-inspired flavors. As the brand gains awareness and distribution to over 300 stores across the country, savvy entrepreneurs Sarah Renahan and Nydia Shipman are launching the #LiveWorthy campaign focused on what inspired the product in the first place – the need for women to treat their bodies with the same worth as they live their lives every day.
"As busy women who were leaving big corporate jobs to be new moms, we had much more responsibility and rewards in our lives, but we found it almost impossible to find foods that would fuel our bodies with the nutrition we needed and taste we deserved," said Sarah Renahan, co-founder of Worthy. "So Nydia and I went into our refrigerators and started experimenting with recipes until we created a plant-based snack we could be proud of and that could help make it easier for everyone to nourish their worth every day."
The Live Worthy campaign includes a completely new website experience to be more plant-forward, visual and engaging; a robust and interactive social media campaign which kicks off on Feb. 5 with a LiveWorthy anthem video depicting real women living their best selves and asking others to share how they 'live worthy' on www.theworthycompany.com; and a rejuvenated Instagram presence and YouTube channel to fuel the Live Worthy movement. The updated packaging was designed to be single-serve and with more vibrant colors and images; and a new Vanilla Orange variety that was inspired by those childhood vanilla orange popsicles.
About The Blendie Bowl
The Worthy Blendie Bowl is made from a smooth blend of whole fruits and vegetables like kale, cauliflower, sweet potatoes and broccoli, legumes and chia. Each 5.7 oz., 150 calorie serving delivers 8 g of protein, 8 g of fiber and two servings of fruits and vegetables. The flavors were inspired by the founders' favorite treats: Strawberries and Greens (Strawberry Rhubard Pie), Dark Cocoa Cherry (chocolate brownie with a cherry on top), Green Tropics (Pina Colada) and their newest, Vanilla Orange (creamy vanilla orange popsicle)
About the Co-Founders
As two first-time moms and long-time besties, Sarah Renahan and Nydia Shipman were experiencing a whole new and exciting way of life – oh, and trying to shed baby weight! – at the very same time. They searched and searched for an option they could love and that would love their bodies back, but found nothing. So they spent countless hours in their kitchens developing recipes that could make it easy for all those 'busy bodies' out there to eat well, feel great and continue to live worthy.
For more information on, and where to purchase Worthy visit www.theworthycompany.com