Wellnut Farms Introduces Walnut Butters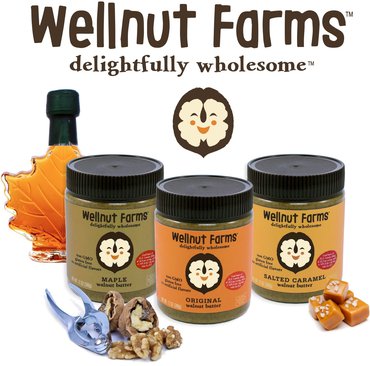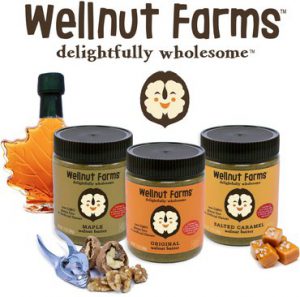 MAXWELL, Calif.— Wellnut Farms is proud to present their three walnut butters. Being an excellent source of vitamins and minerals with plant based omega-3 fatty acids, health supporting walnuts are now the star on the nut butter shelf. Walnut butters are not only indulgently delicious but a valuable source of nutrition.
With flavor choices of original, maple and salted caramel, there is a new favorite nut butter for everyone. Wellnut Farms assures the absolute highest quality product with the latest technology in sustainable farming practices and uses only the finest ingredients. We are also the walnut growers and have control of the product from the farm, to the jar, to your mouth.
Often, the simplest foods are best for your health, and this is certainly the case for nuts. Mother Nature has crafted a nearly perfect package of protein, healthy fats, fiber, plant sterols, antioxidants and many vitamins and minerals. Among nuts, the case may be made that walnuts are king, as research shows they may boost your health in a number of ways at very easy-to-achieve "doses." Eating just one ounce of walnuts a day, about seven shelled walnuts, may be all it takes to take advantage of their beneficial properties.
Wellnut Farms exhibited at the 2019 Winter Fancy Food Show, presented by the Specialty Food Association, at the Moscone Center in San Francisco, California from Jan. 13-15.
Sustainability
Wellnut Farms is committed to providing the absolute best quality products while doing everything possible to treat our Earth with care. Sustainable farming practices are paramount to our operation with focus on soil health, minimal water use, decreased pollution, employee wellbeing and environmentally friendly practices.
About Wellnut Farms
Wellnut Farms is four generations of farmers, two family farms and lots of walnuts. Fifty years ago, our grandparents planted their first walnut trees in sunny, bountiful Northern California. Five decades later, we are still passionate about all things walnuts. You can only imagine our delight when we discovered our two favorite things coming together–walnuts and indulgence.
Like what you're reading?
Subscribe to BevNET+NOSH Today
Subscribe today and get access to the leading industry resources in the food &amp beverage industries. News, trends, industry data, expert analysis and much more.
Access all of these benefits:
Unlimited access to all content on BevNET.com and NOSH.com
Exclusive access to hundreds of educational videos
Watch subscriber-only live programs such as Office Hours