Rule Breaker Snacks to Preview Rule Breaker Bites at Expo East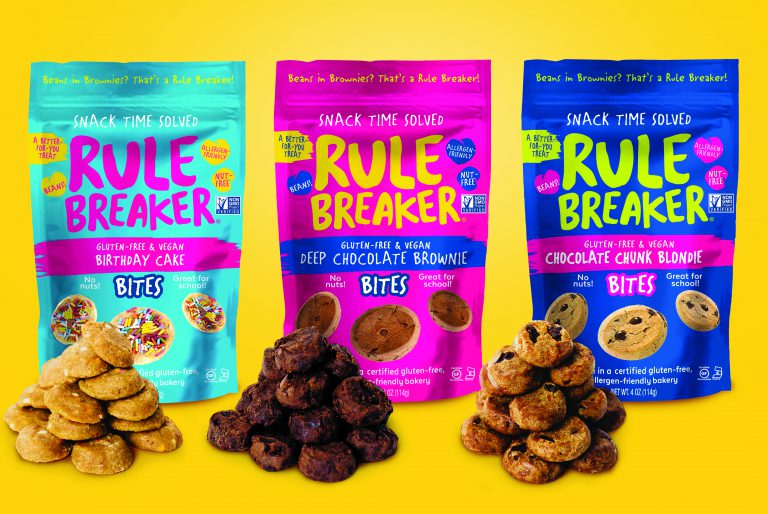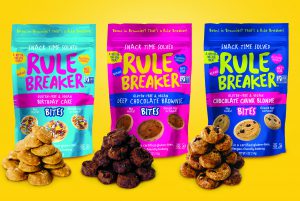 NEW YORK– Rule Breaker Snacks, maker of innovative vegan, gluten-free, bean-based treats is pleased to announce they will be exhibiting at Expo East and will be previewing new Rule Breaker Bites as well as a newly reformulated P'Nutter Chocolate Chip Blondie.
Rule Breaker Bites are bite-sized versions of Rule Breaker's blondies and brownies that burst on to the scene just a few years ago at the same show. Available in three flavors, Deep Chocolate Brownie, Chocolate Chip Blondie and Birthday Cake, new Rule BreakerBites are a NEXTY Award finalist in the category of Best New Sweet Snack.Following a successful Kickstarter campaign that helped to springboard the product to market, new Bites will be available in fall 2019. The company will also be previewing a new recipe for its popular P'Nutter Chocolate Chip blondie which features the classic taste of chocolate and peanut butter but without a trace of nuts.
All Rule Breaker Snacks are:
100% plant-based (vegan)
Certified Gluten-Free
Nut-free and safe for school
Dairy-Free
Certified Kosher
Certified Non-GMO
Preservative-Free
Founded by Nancy Kalish, a former health journalist (with a serious sweet tooth) looking for better-tasting, better-for-you sweet treats for herself and her family, Rule Breaker Snacks first launched at Expo East just four years ago.
"Now, we're thrilled to be back at Expo East showcasing our new Rule Breaker Bites as well a new recipe for our P'NutterChocolate Chip Blondie," says Nancy Kalish, founder of Rule BreakerSnacks.  "We are constantly thinking of newways to solve snack time for consumers and we think these new products provide the perfect answer!"
For more information about RuleBreaker Snacks, visit rulebreakersnacks.com. To stay up to date on company news and information follow Rule Breaker Snacks on Facebook, Twitter and Instagram.
About Rule Breaker Snacks
Rule Breaker Snacks is the maker of innovative vegan, gluten-free, non-GMO, allergy-friendly, bean-based treats. Founded by former health journalist and certified health coach Nancy Kalish as she searched for better-tasting, better-for-you sweet treats, Rule BreakerSnacks has upended snack time over the past few years with snacks that are perfectly and deliciously guilt-free. Rule Breaker Snacks are available online as well as in over 2,000 retail locations nationwide. For more information, visit rulebreakersnacks.com.