Président Announces Gourmet Pairings Spreadable Cheese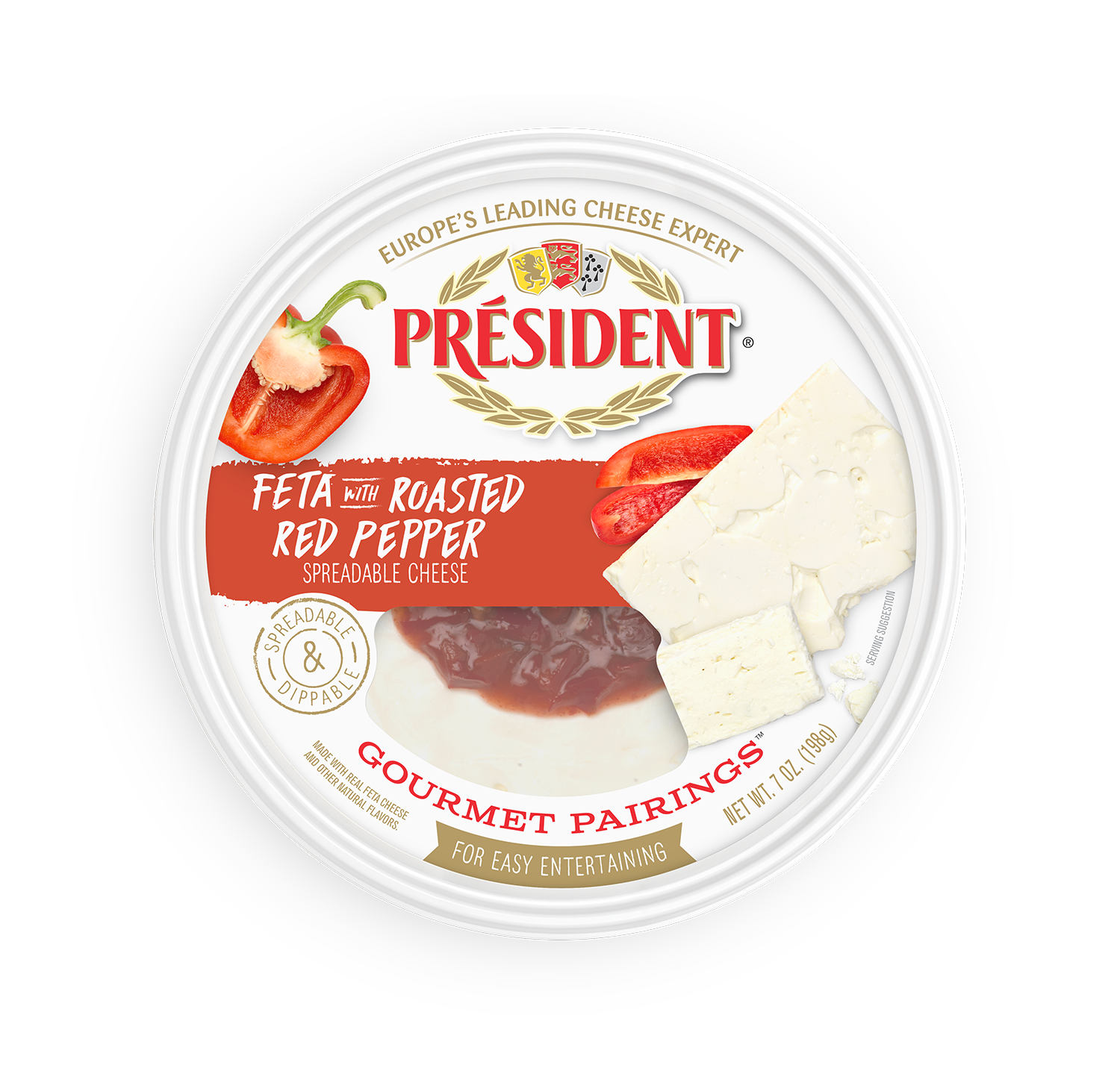 SAN FRANCISCO— Président brand (Booth #2251) introduces Gourmet Pairings – a smooth and creamy spreadable cheese with perfectly paired, gourmet toppings – as well as samples of Président Feta Marinated Cubes, Président Goat Feta, Président Fresh Goat Cheese with Herbs and Président Le Bleu. Below, discover how the exceptional taste, ease of use, and trusted expertise of these products can enhance home entertaining.
Président Gourmet Pairings
The innovative product combines specialty cheese with desirable toppings, making the art of pairing more convenient for those entertaining at home or simply looking for an accessible, yet indulgent snack. The three debut flavors are Feta with Roasted Red Pepper, Blue Cheese with Caramelized Onions and Aged White Cheddar with Apple Chutney, all of which are perfect for both spreading and dipping. Senior Marketing Manager Faith Rutzen says, "Président brand is thrilled to offer a no-fuss option for stress-free entertaining with chef-inspired, paired toppings that are guaranteed to impress party guests."
Feta & Roasted Red Pepper: A roasted, savory pairing with a touch of tang and hint of salt
Blue Cheese & Caramelized Onions: An upscale pairing with pungent blue soothed by sweet caramelization
Aged White Cheddar & Apple Chutney: A classic sweet and savory pairing that is both crisp and creamy
Président Feta Marinated Cubes
Launched during the 2018 holiday season, Président Feta Marinated Cubes are pre-diced, sheep milk French feta cubes marinated in the perfect amount of oil combined with flavorful spices. The three debut flavors – Olive Oil, Herbes de Provence and Pepper Medley – make home entertaining and recipe creation easier with an added touch of flavor that will impress guests.
Président Goat Feta
A traditional goat milk feta, Président Goat Feta offers a slight tang and its artisanal basket shape makes it great for entertaining.
Président Fresh Goat Cheese with Herbs
A rindless, smooth cheese, Président Fresh Goat Cheese with Herbs is crafted in Poitou-Charentes – a region of France famous for goat cheese production. The newest addition, Président Fresh Goat Cheese with Herbs has the light texture and delicious, tangy, mild flavor of goat cheese with a hint of parsley and other fresh herbs.
Président Le Blue
This delicious and mild blue-veined cheese is crafted from pasteurized cow milk in the mountainous Auvergne region of France. It has a soft texture with mellow mouth feel.
About Président
Président is a leading brand of the Lactalis Group, a company founded in France in 1933, and today the global leader in dairy. Lactalis Group brings over 80 years of French artisanship and tradition to the dairy industry. Président is a leading cheese brand in Europe with a wide range of specialty and PDO (Protected Denomination of Origin) cheeses, and has won more than 80 medals over the past nine years, distinguishing itself in every contest from 2009 to 2018. For more information, including a full product list, visit www.presidentcheese.com.