Once Again Launches White Chocolate Nut Butter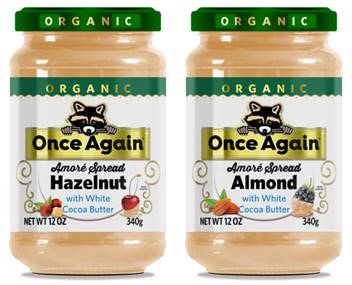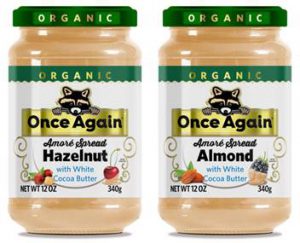 NUNDA, N.Y.– White chocolate lovers rejoice! Once Again Nut Butter is expanding its Amoré lineup of specialty nut butters to include new Amoré Spread Hazelnut with White Cocoa Butter and Amoré Spread Almond with White Cocoa Butter. Launching this March at Expo West, booth #1915, the products pair high-quality nuts with organic cocoa and are the first white chocolate nut butters on the market.
With a velvety texture and balanced sweetness, Once Again's new Amoré spreads transform everyday foods into healthy indulgences. For example, try them with berries or fruit, close your eyes, and your taste buds will think you have bitten into a rich pie from the bakery! At only 180 calories per serving, there is ample room for creativity and no need to hold back cravings. Here is how the two flavors break down:
Amoré Hazelnut Spread: Buttery hazelnuts join white chocolate in this luscious spread that tastes like shortbread. Stir it into coffee or top your biscotti with it for a mid-morning treat!
Amoré Almond Spread: Smooth white chocolate pairs perfectly with mellow almonds for a decadent yet delicate dessert that is delicious drizzled over frozen yogurt or used as an alternative for frosting.
Shared Gael Orr, Once Again Nut Butter's marketing communication and PR manager, "The response from those who taste our original Amoré products made with cocoa and milk has been amazing, and we're super excited to introduce these white chocolate flavors. Made with just the right amount of sweetness, both nut butters are ideal for creating oh-so-satisfying desserts that can be enjoyed guilt-free."
Once Again Nut Butter's Amoré White Cocoa Spreads are completely free of cholesterol and trans fat and are also Certified Organic, part of the brand's Honest In Trade program, Non-GMO Project Verified and Gluten-Free Certified. The products will start rolling into local co-ops and natural food stores this spring for an SRP of $9.95 per 12oz recycled glass jar. Squeeze packs sold individually or in a 10-pack will also be available for retailers this fall.
About Once Again Nut Butter
Once Again Nut Butter Collective, Inc. is an employee-owned company with a passion for doing things the right way for its people, products and the planet. Founded in 1976 by a husband-and-wife team with an entrepreneurial flair, Once Again has grown from a company run out of an 800-square-foot basement into a thriving business that produces millions of pounds of organic and natural nut and seed butters. In 2016, Once Again expanded into a new SQF Level 3 Certified, 37,000 square-foot facility in rural upstate New York where it now produces its peanut butters. The company's tree nut and seed butters are produced in a separate facility nearby. Recognized as a leader in ethical and sustainable business practices, the company founded its Honest In Trade program to define the team's efforts and take them to the next level. In addition to their support of farmers in underdeveloped countries, initiatives to protect the environment, and unsurpassed safety and quality standards, this fun-loving family of 86 employees also actively supports its community and non-profit organizations. The brand's mascot, Rocky-Roo the raccoon, symbolizes their wholesome nature and responsibility to the earth and their products. Once Again Nut Butter's product offerings include new Amoré spreads, along with organic and natural peanut, almond, cashew and seed butters and honey for retail and foodservice customers. Visit OnceAgainNutButter.com to learn more and follow @OnceAgainNutButter on social media.