Mighty Sesame Co. Launches Squeezable Tahinis and Gluten-Free TahiniBars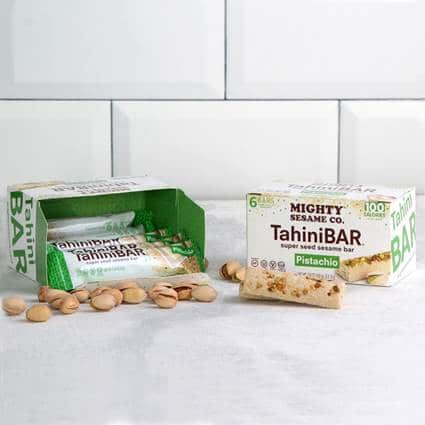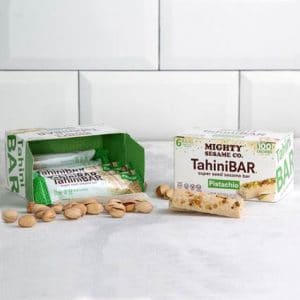 BAYONNE, N.J.– At a time when hummus is the new "it" food – seriously, who could have predicted a Snickerdoodle hummus revolution? – consumers have been getting excited about tahini, the smooth sesame paste that's so essential to traditional Middle Eastern hummus. Today tahini is showing up in sandwiches, baked goods, desserts, and even cocktails.
It was only a matter of time before tahini snack bars made an appearance. The healthy-minded people at Absolutely Gluten Free jumped in and made a splash with three all-natural varieties – Pistachio, Cocoa Nibs, and Vanilla – each at only 100 calories per bar.
These addictive treats are now being rebranded under the Mighty Sesame brand name. The packaging is new, but Mighty Sesame promises the same premium-quality product inside. All three varieties of grab-and-go TahiniBars remain gluten-and dairy-free, vegan, kosher, and delicious. (MSRP: $3.99 – $4.89 per box of 6 individually wrapped 0.63 oz. bars.) They are available at Walmart stores nationwide, Meijer and HEB as well as other independent foods stores.
Taking Tahini to New Heights – Two New Mighty Sesame Brand Tahini Squeeze & Serve
Tahini is a superfood. Loaded with protein, vitamins and minerals, it's a great alternative for those with nut allergies and provides a boost of energy. The Mighty Sesame Company's versatile Tahini, sold in convenient squeeze bottles, are at home in savory and sweet dishes alike. The sesame experts at Mighty Sesame suggest using it in marinades, dips, desserts, as a sandwich spread, on salads, in soups, and drizzled over meat fish, and falafel. Of course, it's also a perfect add-in to homemade hummus.
Creamy and decadent, Mighty Sesame Co. organic, squeezable & ready-to-us tahini is made from 100% slow-roasted sesame seeds to be enjoyed 100% guilt-free: it's organic, vegan, gluten- and dairy-free, kosher, and halal.  Tahini is the perfect addition to add flavor to any diet with just one ingredient that delivers plant- based protein and is Keto friendly.  (MSRP $4.99 per 10.9 oz. bottle.)
New! Whole Seed Mighty Sesame Co. Creamy & Squeezable Tahini is made from un-hulled sesame seeds, which provides more calcium and a rich, delicious fuller tahini flavor. It's an excellent source of calcium and is non-dairy, vegan, and still rich creamy and ready-to-use straight from the squeezable bottle.
Mighty Sesame TahiniBars in the 6-bar package and Mighty Sesame Co. organic, squeezable & ready-to-use tahini are available at Walmart stores nationwide. Additionally, Mighty Sesame brand TahiniBars and Tahini Squeeze and Serve bottles are available at Whole Foods, Publix, Wegman's, Walmart and Amazon, as well as independent food stores across the U.S. They are distributed by Kayco, headquartered in Bayonne, NJ.
About Kayco/ Kayco Beyond
Kayco is one of the largest manufacturers and suppliers of kosher foods. Its expanded Kayco Beyond Division sources and distributes new products to the general market beyond kosher, to meet the demands of consumers looking for optional products that are healthful, convenient and/or for restricted diets and lifestyles. These brands include Dorot, Absolutely Gluten Free, Beetology, Mighty Sesame, Tuscanini Foods, Wissotzky Tea Co. and new Wonder Melon. They are headquartered in Bayonne, NJ. (KAYCO.com).