Kopper's Chocolate Launches Fair Trade Product Line On The Rocks Chocolates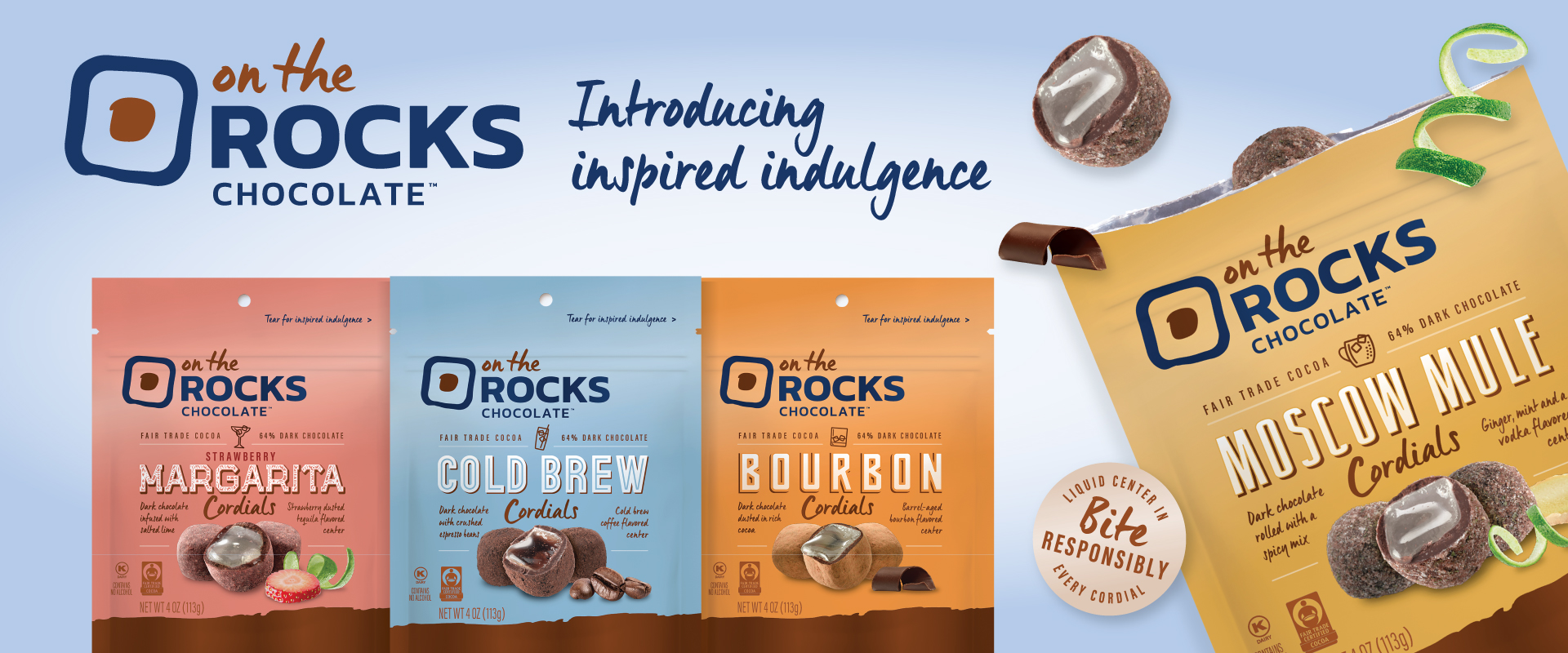 JERSEY CITY, N.J.— Kopper's Chocolate is set to launch a new chocolate line highlighting their top selling, adult beverage themed cordials at the Winter Fancy Food Show in San Francisco. An Inspired Indulgence, On the Rocks Chocolate is handcrafted with Fair Trade Certified cocoa and each 64 dark chocolate cordial is crafted after your favorite adult beverage. Filled with a surprising liquid center, each bite will leave you wanting more.
"Kopper's traditional cordials are truly special, surprising and delicious. They have been a top seller in our collection for decades," says Deborah Holt, general manager of Kopper's Chocolate. "Crafting modern flavor offerings and supporting the Fair Trade initiative seemed like a natural innovation for Kopper's and as a result we created On the Rocks Chocolate."
On the Rocks Chocolate is available in four tantalizing flavors, packaged in 4 oz. resealable pouches and merchandised in merchandise-ready caddies for quick display. These delicious bites contain no alcohol.
Moscow Mule – Dark chocolate cordials boldly rolled with a spicy mix of sugar, ginger and mint and a vodka flavored center.
Cold Brew Coffee – Dark chocolate cordials energetically rolled with crushed espresso beans and a cold-brew coffee flavored center.
Barrel Aged Bourbon – Dark chocolate cordials decadently dusted with delicious rich cocoa and a barrel-aged bourbon flavored center.
Strawberry Margarita – Salted lime infused dark chocolate cordials tantalizingly dusted with smooth strawberry powder and a tequila flavored center
"We are extremely excited about this creation. Crafting innovative and great tasting hand-crafted chocolates is in our DNA," exclaims David Braverman, head of Kopper's operations and owner at Nuts.com, parent company to Kopper's Chocolate. "They are a great anytime personal indulgence or shareable hostess gift. Just be sure to bite responsibly as an inspired indulgence awaits with On The Rocks Chocolate."
On The Rocks Chocolate is the first Fair Trade Certified product line for Kopper's Chocolate.
"On The Rocks is the perfect way to kick off our partnership with Fair Trade USA," says Holt. "Embracing the Fair Trade values honors an 80 year old commitment of craft and sourcing quality ingredients, while empowering our partners every step of the way."
About On the Rocks Chocolate
On the Rocks Chocolate was crafted in the summer of 2018 by the 80 year old chocolate maker Kopper's Chocolate.  A nod to the classic Kopper's alcohol flavor-filled cordials created over 40 years ago and found in candy shops from New York to California, On the Rocks is an inspired twist on an old indulgence. On the Rocks will be available in January 2019. For more information, visit OntheRocks.com.
About Kopper's Chocolate and Nuts.com
For the last 80 years, Kopper's Chocolate has been one of the most respected specialty panners of artisan chocolates and specialty confections in the world. Every bite-size piece is truly a labor of love, and a work of art. Acquired by Nuts.com in 2016, Kopper's is still third generation family owned and operated. For more delicious bites, visit Kopperschocolate.com.
Nuts.com, a family-owned company, was founded in 1929 by Poppy Sol as The Newark Nut Company. For three generations, we have been committed to re-stocking healthy pantries with the highest-quality nuts, dried fruit, snacks and pantry staples. An ever-growing offering of more than 3,000 products includes artisan and hard-to-find products as well as hundreds of gluten-free and organic items, truly offering something for everyone. Learn more about our nutty family by visiting Nuts.com.