Kakookies Launches New Flavor at Winter Fancy Food Show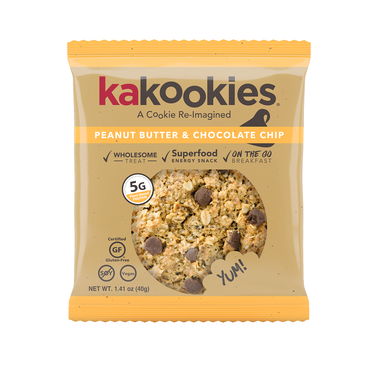 MINNEAPOLIS– Kakookies will be launching a new flavor at the San Francisco Fancy Food Show (Booth #5401): Peanut Butter Chocolate Chip.
This delicious and classic combination of peanut butter and chocolate is popular with all ages, and the best part about Kakookies is, they contain gluten-free oats and five grams of plant-based protein without sacrificing on taste or texture.
Kakookies was created by Sue Kakuk (who is also a Pillsbury Bake-Off Finalist) for her daughter and collegiate cycling teammates. Sue carefully crafted an on-the-go cookie made with whole grains and superfood ingredients that satisfies hunger and sustains energy. "I wanted to pack the deliciousness and comfort of a cookie with the nutrition of an energy bar into a grab and go snack to help fuel busy and active lifestyles," according to Kakuk.
Kakookies are made with a functional blend of superfood ingredients and plant-based proteins and are vegan, gluten-free, dairy-free, egg-free and soy-free. These "better for you" energy snacks are especially popular with busy people of all ages, regardless of dietary restrictions, for grab-n-go breakfast mornings, after school activities or outdoor adventures.
Kakookies are also available in four other flavors: Almond Cranberry, Boundary Waters Blueberry, Cashew Blondie and Dark Chocolate Cranberry. Kakookies can be found in thousands of retail locations across the country such as Whole Foods, Kowalski's, food co-ops, coffee shops and specialty retailers as well as college campuses and corporate dining. Kakookies can also be purchased online at www.kakookies.com.