Gringo Bandito Hot Sauce Announces 2019 Private Reserve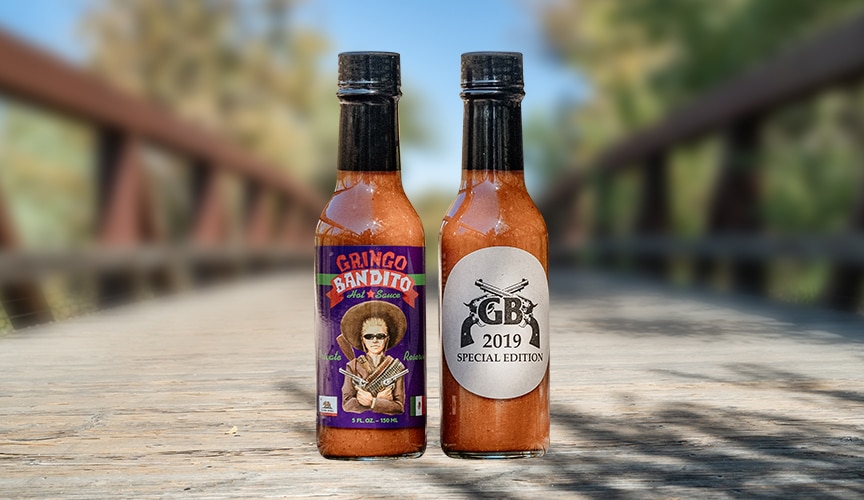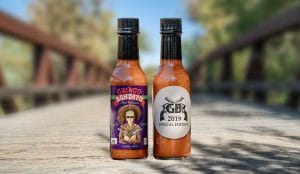 HUNTINGTON BEACH, Calif.— Gringo Bandito Hot Sauce, the Southern California hot sauce brand created by The Offspring's Dexter Holland, will be releasing their 10th and very last Private Reserve offering on November 21. This year's unique, and very limited sauce features a tasty blend of red fresno and habanero peppers and will be offered via two different package tiers. Gringo Bandito and hot sauce fanatics nationwide can order the sauce, which quickly sells out, on 11/21 at 9am PST via Gringobanditostore.com
With nearly a decade of Gringo Bandito releasing their wildly popular private reserve blends, all good things must come to an end with this 2019 final release. To ensure the Private Reserve goes out with a "fiery" bang, two different tiers will be offered, depending on if you are feeling Super Duper or if you're being a Cheapskate. The Super Duper package includes a bottle dawning a warm purple label printed on silver foil material included within a wooden pine box with a clear cover. In addition, the premium package will include an extra bottle of Private Reserve (Cheapskate) along with a specially printed 4"x3" patch, t-shirt and two limited guitar picks. The Cheapskate option is simply a bare bones bottle with a small label.
The private reserve is made with premium ingredients and has no artificial flavors, colors or preservatives. Each year, Dexter Holland takes time to curate special ingredients for each limited batch and assembles each release in creative ways to keep "hotheads" excited. "After 10 years of doing this Private Reserve it just feels right to make it the last batch," says Holland. "Year after year I'm blown away at the enthusiasm people have for this reserve, and can't thank everyone enough for the support over the last ten trips around the sun".
While this may be the last private reserve release, Gringo Bandito's 4 core hot sauces are more popular than ever. The sauce continues to rank as a top 10 selling condiment on Amazon, and can be found in over 7000 stores and restaurants nationwide. Playboy Magazine has described Gringo Bandito as "the best combination of sweet and hot I have come across." Gringo Bandito has 70% less salt than other major competitors, contains no preservatives, and is gluten-free and all-natural.
Learn more about Gringo Bandito online and purchase the Private Reserve starting on November 21 at www.gringobanditostore.com
Gringo Bandito was started in 2004 by Dexter Holland, singer for the multi-platinum punk rock band The Offspring, more as a hobby than a business.
"I just thought it would be cool to have a hot sauce," says Holland. "I gave away the first batch as Christmas presents for my friends." The response to this new hot sauce was so overwhelming that Holland decided to put it out commercially.
Sales were modest at first, and the hot sauce was distributed only in Holland's native Southern California. "It has always been a DIY operation for sure," Holland says. "It started small but it has just kept on growing."
After several years and over a million bottles later, Gringo Bandito hot sauce has garnered a worldwide audience and a loyal following. "We're not the most well-known hot sauce out there," says Holland, "but once people try it, they're hooked."
Gringo Bandito is now sold in Australia, Japan, Canada, Finland, Switzerland, UK, Poland, Germany, Belgium, Hungary and coast to coast in the US and can be found in the top 10 on Amazon.com's highest customer rated hot sauces amongst 5000+ other products.