Fazer Announces the Launch of NORDI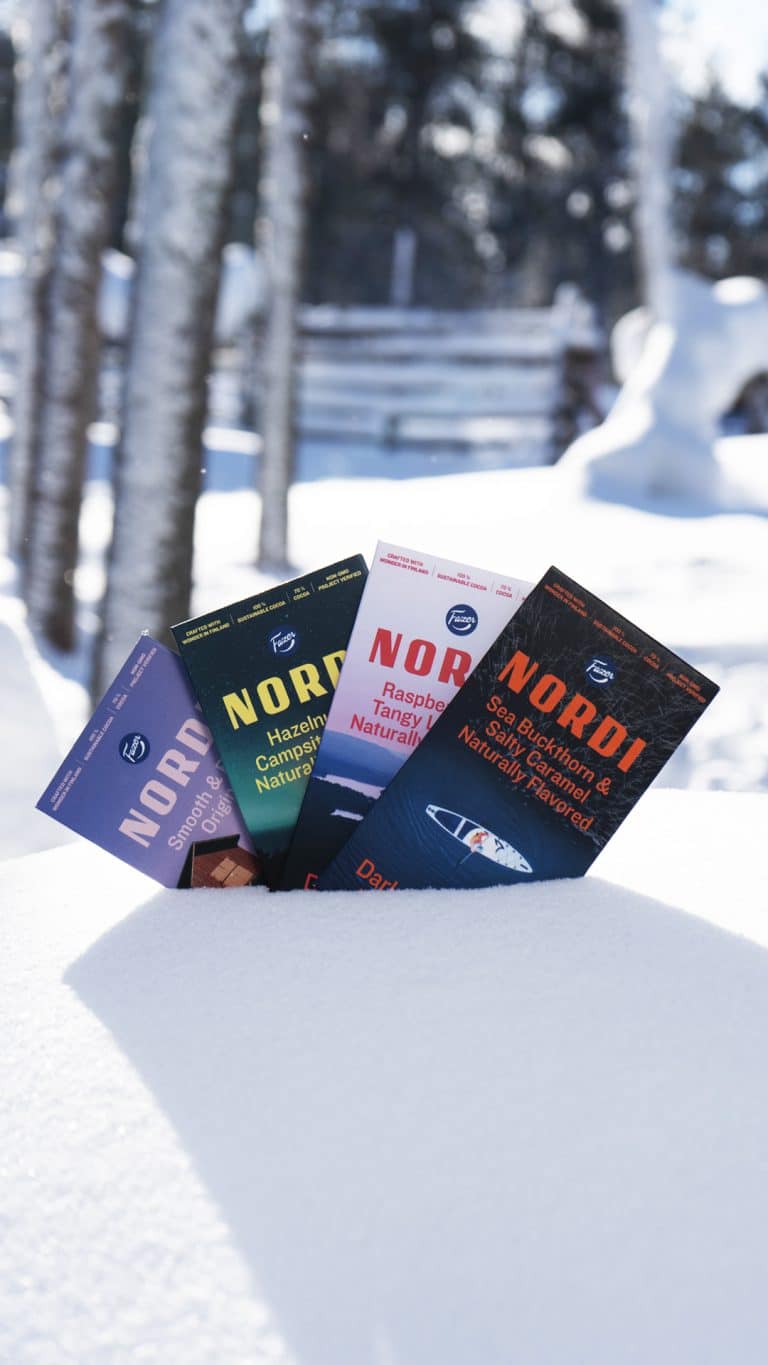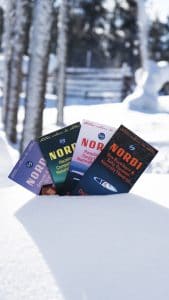 FINLAND– Fazer, the renowned, family owned company dedicated to creating over 127 years of meaningful food experiences from baked goods and confectionary to food service and more, proudly announces the U.S. introduction of the NORDI Chocolate brand. Launching this month into the New York Metropolitan Area, the NORDI Chocolate brand will introduce a line of "Nordic inspired" Dark Chocolate bars, and roll-out into premium grocery and specialty retailers across the country.
The new NORDI Chocolate brand brings unique Nordic signature flavors that embody the spirit of adventure, courage, and discovery in the way the founder, Karl Fazer, would have imagined it.
"Like our founder, Karl Fazer, the fearless pioneer who brought people new ideas and inspiration from all over the world, we value artisanal crafts and pure ingredients to innovate and combine taste sensations that touch upon magic," said Nathalie Ahlstrom, Managing Director of Fazer Confectionery. "We saw a great opportunity to bring our promise, 'Northern Magic. Made Real,' to the U.S. market with our better-for-you, premium chocolate brand that imparts a sense of Nordic adventure through the taste of chocolate."
With operations in nine countries and exports to over 40 markets, Fazer seeks to continue as the Nordic market leader. Fazer will enter into the U.S. market with the NORDI brand to address the current trends of healthier diets and the focus on premium quality over mainstream.
Produced in a state-of-the-art production facility in Finland, with meticulous quality control, NORDI is made with only the highest quality ingredients. As a member of the World Cocoa Foundation to promote responsible cocoa farming and increase the farmers' income levels in major cocoa growing regions, Fazer has ensured that NORDI cacao comes from farmers that belong to Fazer's direct sourcing program or a supplier that is certified through the UTZ, Rainforest Alliance or Fairtrade Cocoa Sourcing Programme.
NORDI is 100% sustainably sourced, with non-GMO ingredients that promote overall health and well-being. Each carefully crafted chocolate bar is made from 70% cacao and unique Nordic recipes that will transport a person deep into the Nordic lands in taste and spirit. Hero ingredients include (but are not limited to):
Licorice Root: An adaptogen herb that is anti-inflammatory and 30-50x sweeter so there is no need for added sugar
Sea Buckthorn: An uncommon super food nutrient powerhouse that boasts vitamins B1, B2, K, C, A, E, folic and amino acids, as well as 60 antioxidants and 20 minerals
NORDI is available in four artisanal recipes of dark chocolate 3.35oz. bars at a premium value between $3.99 – $4.99 per bar. Flavors include:
Sea Buckthorn & Salty Caramel – 70% Dark Chocolate
Hazelnut and Campsite Coffee – 70% Dark Chocolate
Raspberry & Tangy Licorice – 70% Dark Chocolate
Smooth and Dark Original – 70% Dark Chocolate
NORDI will be sold in Fairway Market locations in the New York Metropolitan market this month and will expand nationally into other grocery and specialty retailers this year. The NORDI brand launch is supported with strong consumer and trade marketing programs with plans to expand its recipes and culinary offerings by 2020.
About Fazer Group
In 1891, the young Karl Fazer opened his first café with a mission to make food with a purpose – and a passion to create moments of joy for all the people around him. It became Northern Magic. Made Real. Today, Fazer is an international family-owned company offering quality bakery, confectionery, biscuit and grain products, plant-based meals, non-dairy products, on-the-go food and drinks as well as food and café services. The Group operates in nine countries and exports to over 40 markets. The success of Fazer has been built on Karl Fazer's vision, values and fearless creativity. This includes the highest quality of both products and service, beloved brands, the passion of skillful people, and highly responsible ways of working. In 2018, Fazer Group had net sales of 1.6 billion euros and more than 15,000 employees. Fazer's operations comply with ethical principles that are based on the Group's values and the UN Global Compact. Northern Magic. Made Real.
Like what you're reading?
Subscribe to BevNET+NOSH Today
Subscribe today and get access to the leading industry resources in the food &amp beverage industries. News, trends, industry data, expert analysis and much more.
Access all of these benefits:
Unlimited access to all content on BevNET.com and NOSH.com
Exclusive access to hundreds of educational videos
Watch subscriber-only live programs such as Office Hours