Droga Launches Money on Honey Dark Chocolate French Sea Salt Honeycomb Gift Box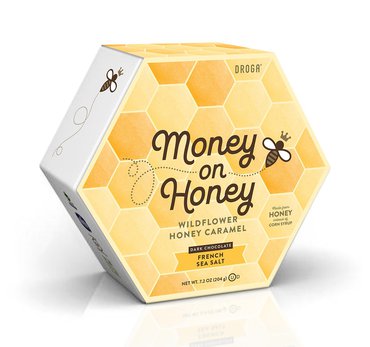 ORLANDO, Fla.– Droga announces the launch of its newly designed Money on Honey Dark Chocolate French Sea Salt Honeycomb Gift Box. Bold and eye-catching, this new gift box does not simply hint at the defining ingredient of Money on Honey, it screams HONEY! The new gift box features individually wrapped pieces of the sofi Gold award-winning Dark Chocolate French Sea Salt variety, making it the perfect gift for chocolate lovers to share or indulge.
Money on Honey is a one-of-a-kind clean caramel treat made with wildflower honey (instead of corn syrup) blended with fresh cream and real butter, then finished with Fair-Trade chocolate and sprinkled with delicate French sea salt, for a delicious Non-GMO, Gluten-Free treat that is only 45 calories per piece.
"We are incredibly excited to debut our new Honeycomb Gift Box at this year's Winter Fancy Food Show," said Brand Manager Lauren DiSanza "I set out to create a package that looks as unique and amazing as our wildflower honey caramel tastes and I couldn't be more pleased with the outcome!"
About Droga
Droga introduced Money on Honey in 2011 and has rapidly expanded it into a full line of delicious all-natural wildflower honey caramels. Money on Honey caramels are made with pure honey (instead of the usual corn syrup), blended with real cream and butter and finished with Certified Fair Trade dark chocolate, for a premium, delicate and more wholesome alternative to other caramels in the market. A portion of all Money on Honey sales is donated to Project Apis M., a non-profit organization whose mission is to fund and direct research to enhance the health and vitality of honeybee colonies.