Blanxart To Debut Peru Chocolate Bar at Winter Fancy Food Show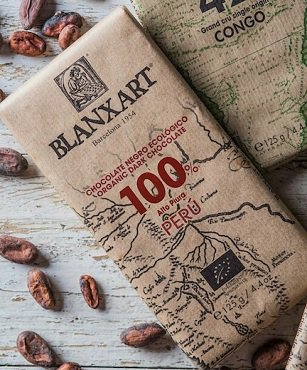 LYNNWOOD, Wash.– Bean-to-Bar Spanish Chocolate Producer Blanxart will debut their new Organic Single Origin 100 percent Peru Chocolate Bar at the Winter Fancy Food Show in San Francisco. This smooth, dark bar has woodsy flavor notes with hints of smoke and licorice. The 100 percent bar is the newest addition to their Organic Single Origin Chocolate line available exclusively through Spanish foods importer Culinary Collective.
Blanxart sources the white criollo cocoa beans that go into this bar, known for their unique aroma and flavor, from the Piura region of Peru. Blanxart works closely with a farmer- owned cooperative to ensure that the beans are of the highest quality, organically grown and certified fair trade. Blanxart takes pride in these partnerships, which they believe to be more sustainable for not only their business, but also for the agricultural workers and the health of the planet.
Blanxart, a bean-to-bar artisanal chocolate producer based in Barcelona, Spain, has been making chocolate since 1954, and were pioneers in the craft chocolate movement. Blanxart continues to seek out the best beans from all over the world, and in this case have done what they do best, turned them into a smooth chocolate representative of region where these beans are grown. This sense of terroir is what makes their single origin chocolate bars so special. Also available through Culinary Collective are Blanxart Single Origin Nicaragua 85 percent, Congo 82 percent, Peru 77 percent, and Brazil 76 percent.
Spanish foods importer Culinary Collective will be showcasing the full line of Blanxart Chocolate at the Winter Fancy Food Show San Francisco, booth #261. Stop by for a sample and for information about distributors in your area.
About Blanxart
Blanxart is a small bean-to-bar chocolate producer based in Barcelona, Spain, and has been producing chocolate bars and confections since 1954. Their rustic, award-winning packaging reflects their natural, hand-made process. Blanxart takes pride in hand-selecting the highest quality cocoa beans from all over the world, and whenever possible, purchases cacao from producers whose beans are certified fair trade.
About Culinary Collective
Based in Lynnwood, Washington, Culinary Collective is an import and distribution company specializing in gourmet cultural foods that embody and promote native cultures and traditions. The company works with small family and community companies that take pride in producing all-natural foods using methods and recipes passed down through the generations. Under its Matiz España label, Culinary Collective imports and distributes an extensive line of traditional products from Spain. Under its Zócalo Gourmet brand, the Collective supports small-scale producers of all-natural cultural foods in Peru by bringing quality products such as grains, flours, beans and chili pastes direct from the producers to US and Canadian retailers and consumers. Culinary Collective is proud to be a Certified B Corporation. More information at www.culinarycollective.com.