Beetnik Foods' New Frozen Organic Offerings Now Available in Target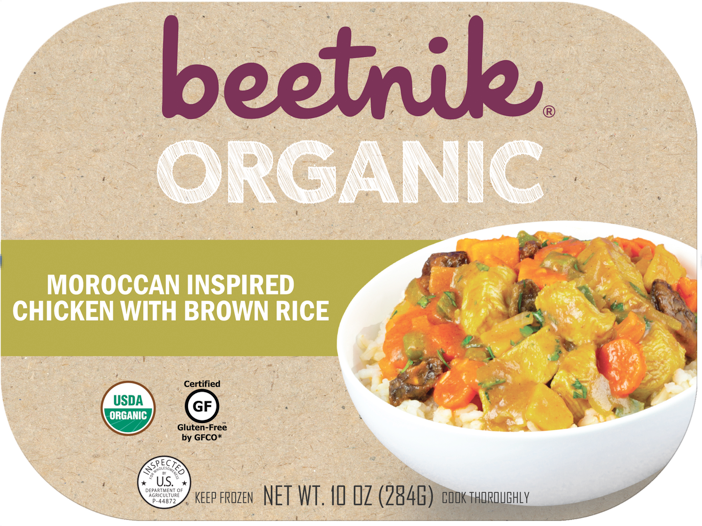 AUSTIN, Texas– Beetnik Foods, an Austin, Texas-based organic food brand specializing in organic, gluten-free, humanely raised, grass fed beef and chicken entrées, has launched a product line with Target and will be on shelf starting Jan. 21. Certified USDA Organic and gluten free, Beetnik meals will be available at Target stores nationally and sold at an SRP of $5.49. Target shoppers searching for new and innovative ways to eat organically now have bold and flavorful frozen entrées as convenient options.
Beetnik Foods will be offering eight varieties in its new Target line including: Shepherd's Pie with Grass Fed Beef, Chicken Chili Verde with Rice, Moroccan Inspired Chicken with Brown Rice, Peruvian Inspired Chicken with Brown Rice, Grass Fed Beef Chili and Sweet Potato, Lemongrass Chicken with Rice, Thai Style Grass Fed Beef with Coconut Rice and Lemon Chicken with Cauliflower Rice. All meals have been artfully crafted to satisfy consumers' need for delicious and organic meal options in a variety of flavors.
"We've collaborated with Target to develop products designed specifically to meet the needs of Target's consumers," shares Founder and CEO David Perkins. "We are eager to give them a great variety of organic healthy, convenient and flavorful meals they will enjoy."
Beetnik's newest products continue to expand the organic consumer's options. Beetnik understands the importance of organic, gluten free and specialty diet eating, and by creating meals crafted with wholesome ingredients, the brand can continue to offer ease of preparation, as well as health and transparency.
About Beetnik Foods
Beetnik is an Austin, Texas-based organic food company that focuses on foods that pair the timeless tradition of high quality ingredients with the conveniences of modern life. Beetnik's line of organic products are available in grocery stores across America. For product news and information please visit www.beetnikfoods.com.