Wize Monkey Launches New Line of Loose Leaf Tins & Seasonal Flavor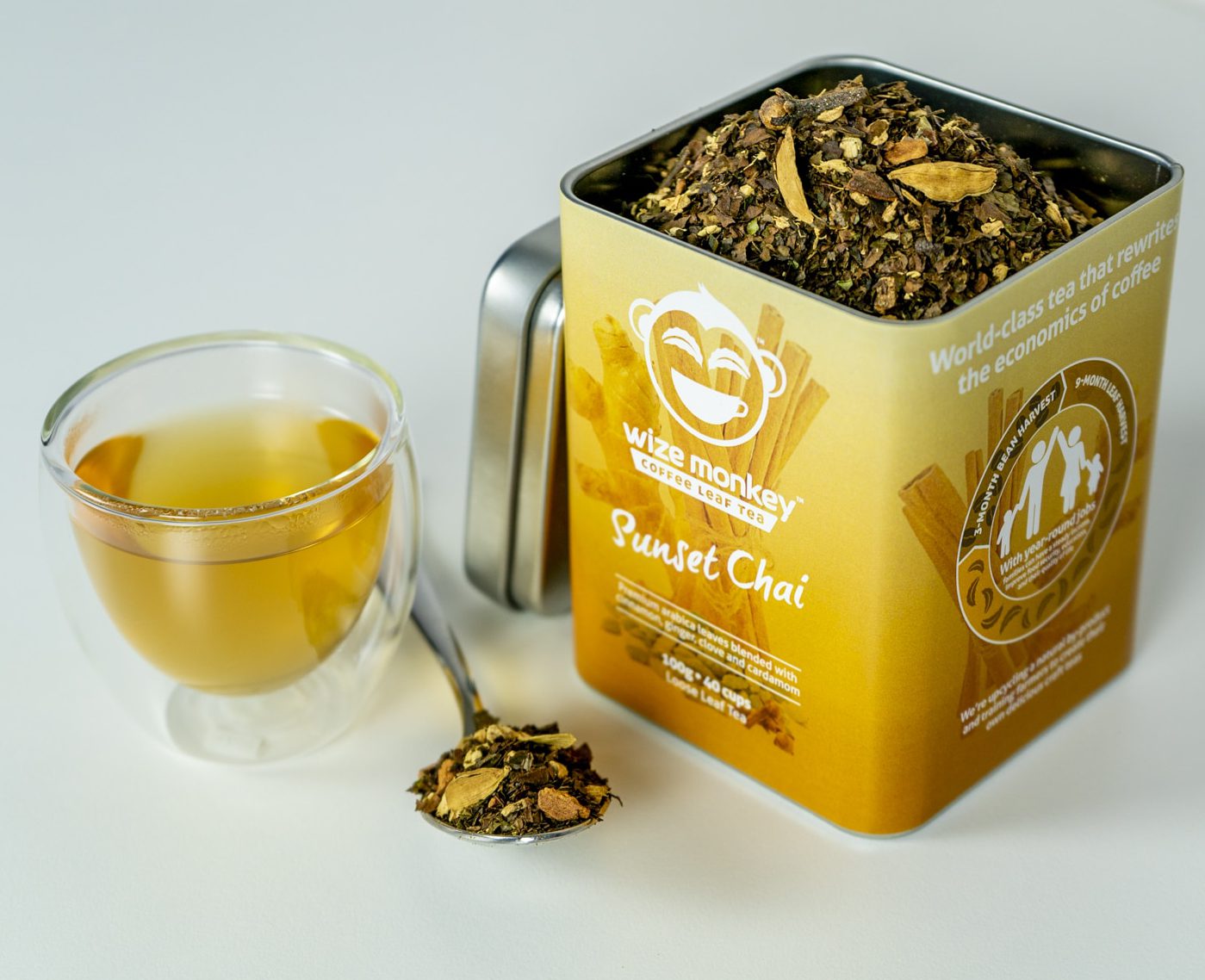 Wize Monkey, the award-winning national brand that pioneered Coffee Leaf Tea, has released a new line of loose leaf tins as well as a new Sunset Chai blend in time for Fall season.
"It's been four years since our launch and we wanted to commemorate it with something that our customers have been asking from us for years," Max Rivest, Co-Founder/CEO of Wize Monkey said.
The new colorful 100g tins mark the beginning of a proper loose leaf offering for Wize Monkey, attracting the ever-growing sophisticated market of tea and coffee drinkers seeking innovative and socially responsible products. The 100g tins are selling now on WizeMonkey.com and will be available Amazon Prime in US and Canada by mid-October.
In conjunction with the new tins, they've launched their new blend Sunset Chai. It marries traditional masala chai ingredients that are loved by consumers around the world with their uniquely smooth Coffee Leaf Tea base, creating a perfectly balanced beverage with spice, sweetness, and deep complexity. Since it doesn't use black tea like a traditional chai, it never gets bitter and can be steeped for hours without becoming astringent, which is consistent with all their teas and represents a unique value proposition for their diverse customers.
"Our new Sunset Chai was blended and tested over the span on 6 months to ensure that we pay respect to the true complexity of chai and it's traditional ingredients. What sets it apart, however, is that the Coffee Leaf Tea base makes it smoother than any other black or green tea chai on the market, and has more body than a rooibos chai. It think it's the best blend we've ever made to date." – Max Rivest, Co-Founder/CEO
The new Sunset Chai is only available in loose leaf at the moment, but should make an appearance at Expo West 2019 in 15-teabag units for retailers to list though UNFI and KeHe.
About Wize Monkey
Wize Monkey is the global leader in Coffee Leaf Tea production, research, and innovation. Stemming from a 2013 grad school project, Wize Monkey has since established itself as the world's first Coffee Leaf Tea company. They are vertically integrated from "Earth to Cup" out of Nicaragua and based in Vancouver B.C. Wize Monkey Coffee Leaf Teas are available in more than 800 stores across North America.