Nichols Farms Launches Nic's Mix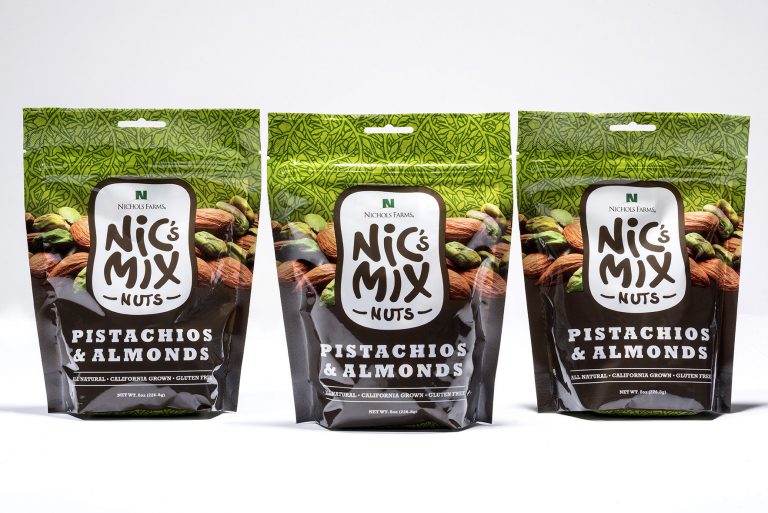 HANFORD, Calif. — Nichols Farms, a third-generation premium tree nut farming operation, introduces a family legacy with the launch of their new Nic's Mix product. The product was created in honor of the owner's father, Graydon "Nic" Nichols, which combines the company's featured products — premium almonds and salted pistachio kernels. With over 60 years of farming experience, Nic's Mix by Nichols Farms unites the highest quality pistachios and almonds in one special bag.
Chuck Nichols, Nichols Farms CEO, is passionate about bringing to market his father's favorite snack. Nic Nichols planted his first almond tree in 1981 across the street from the family home and was among the first to adopt large-volume pistachio farming in 1983. Nic took pride in providing healthy products to consumers worldwide and became the focus of Nichols Farms. Today, pistachios and almonds are still his favorite snack due to their nutty flavor combination.
"I am honored to launch Nic's Mix. It's a great way to pay tribute to the man who taught us all the value of hard work and serving others," said Chuck Nichols.
Nic's Mix (SRP $5.49 – 8 oz. bag), a gluten-free product with only three ingredients, is currently available in HEB supermarket locations across Texas and will be in other retail stores nationwide soon.
Nic's Mix joins the ranks of the company's additional pistachio and almond products. Nichols Farms is committed to high quality and healthy products with branded items including roasted and salted pistachios; organic pistachios; and pistachio and almond mixes. For more information, visit http://www.nicholsfarms.com.
About Nichols Farms
Nichols Farms is a third-generation farming and processing operation located in the heart of California's San Joaquin Valley. For over 60 years, Nichols Farms has offered the highest quality products to its consumers and has become a trusted source of pistachios and almonds. Nichols Farms provides a variety of branded and private label options to retailers worldwide. To learn more, visit www.nicholsfarms.com.