Lotus Foods Launches New Line of Ramen Noodle Soup Cups and Moringa Pad Thai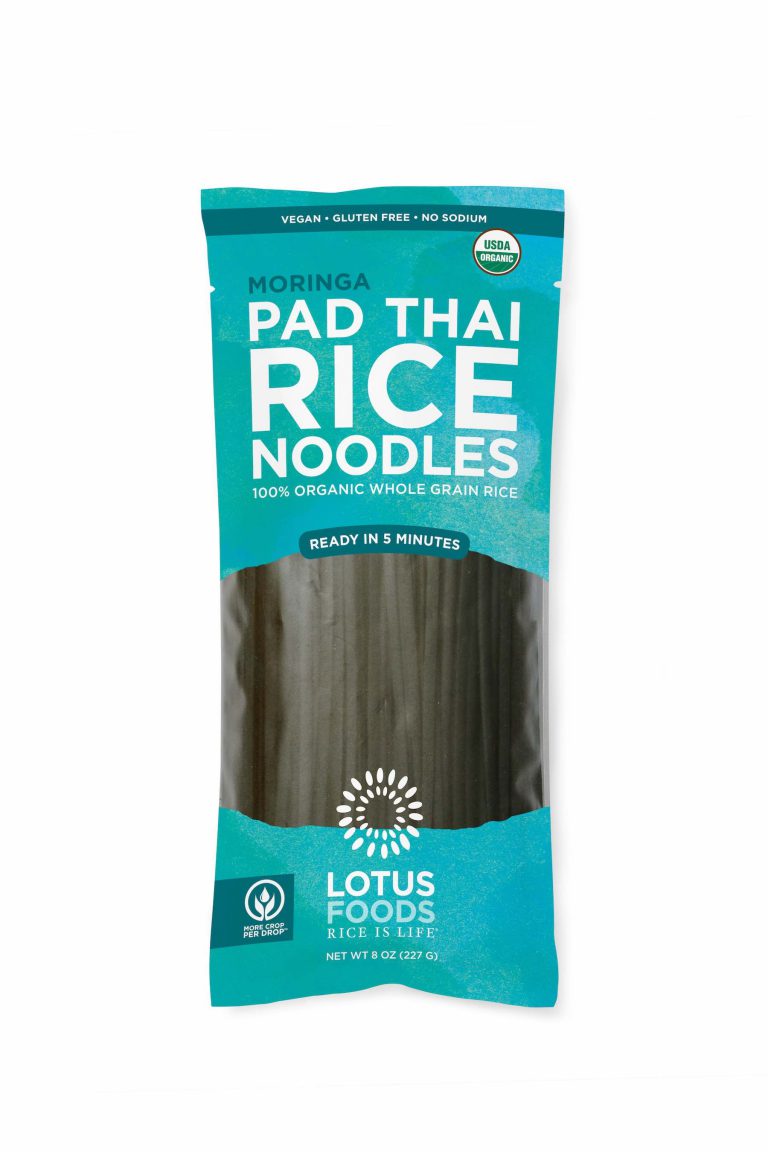 RICHMOND, Calif. — Lotus Foods, the leading heirloom rice company focused on fair and direct sourcing, is excited to announce an exciting new product-line of Rice Ramen Noodle Cups along with an Organic Moringa Pad Thai Rice Noodle.
Building on Lotus Foods' long-standing success in the Ramen Noodle category, the new Rice Ramen Noodle Soup Cups offer a delicious on-the-go soup made with never-fried organic brown rice noodles that are ready to eat in just 3 minutes. Three authentic flavors include:
Red Miso – a mouth-watering blend of red miso, chili, garlic, ginger and wakame seaweed
Masala Curry – An Indian-style curry soup with turmeric, cumin, ginger and cinnamon
Tom Yum – Crave-worthy hot & sour Thai soup with lime, lemongrass, onions and tomatoes
"Having seen our existing Rice Ramen Noodles redefine the traditional Ramen category, we're thrilled to expand into portable on-the-go Rice Ramen Noodle Soup Cups to bring our trademark innovation to that space. It's particularly exciting to make a soup cup that provides a more healthful option for on-the-go eating," said Caryl Levine, Co-Founder/Co-CEO of Lotus Foods.
All flavors are vegan, gluten-free and non-GMO certified and will retail at $2.49 for a 2oz individually sized cup.
The Organic Moringa Pad Thai Rice Noodle builds on the recent successful launch of Lotus Foods' Pad Thai Rice Noodles. Perfect for both stir-fries and soups, they are certified organic, cook in 5 minutes and have incredible flavor. "These were really a no-brainer for us to launch. They taste amazing and introduce the added wow-factor of nutrient-dense Moringa," said Levine.
Moringa was recently identified as a top wellness trend of 2018 by the Sterling Rice Group, Good Morning America and the popular wellness blog Well+Good. Its leaves contain high levels of protein, iron, calcium, vitamins and anti-oxidants, as well as all nine essential amino acids.
Moringa Pad Thai Rice Noodles will be available in an 8oz bag with an SRP of $3.99.
All new items are debuting at Natural Products Expo West and will enter distribution in August 2018. Sampling will be available at Lotus Foods' booth #2117.
Lotus Foods Recognized by NEXTY Awards
In addition to the array of exciting new products, Lotus Foods is also proud to announce the following awards and recognition they will receive at this year's Natural Products Expo West.
At the Hall of Legends Ceremony on Friday, March 9, Lotus Foods will be recognized for receiving the prestigious NEXTY Gold Award for continued brand excellence. This award recognizes industry leaders who consistently uphold industry values and epitomize what it means to have integrity, innovation and inspiration.
Lotus Foods' Vegetable Broth Rice Ramen Line is a finalist for a 2018 NEXTY Award. These three ramen noodle soups contain innovative organic whole grain rice noodles with vegetable based soup mixes.
"We spend so much time and effort working on our products, mission and brand that it's wonderful to be recognized for all of the hard work. Our success ultimately translates to better quality of life for small-holder farmers, so delivering on that vision is extremely rewarding," Levine says.
About Lotus Foods
Since 1995, Lotus Foods has partnered in direct and fair trade with small family farmers around the world who are growing rice more sustainably while preserving rice biodiversity. Lotus Foods' product line includes pigmented heirloom and organic rice varieties such as Forbidden Rice, Jade Pearl Rice, Red Rice, Madagascar Pink Rice & Volcano Rice as well as Rice Ramen, Arare Rice Crackers and now Basmati and Jasmine Rice along with Pad Thai Rice Noodles and Rice Delights. Products are available at major retailers throughout the US and Canada including Whole Foods, Costco, Wegmans, Target and Amazon.com. As a B-Corporation, Lotus Foods' is committed to Changing How Rice is Grown Around the World by focusing on rice grown through the System of Rice Intensification (SRI), which we call More Crop Per DropTM, that minimizes water usage, empowers women, financially rewards farmers and reduces climate impact. Visit www.lotusfoods.com.