illycaffè Introduces Arabica Selection iperEspresso Capsules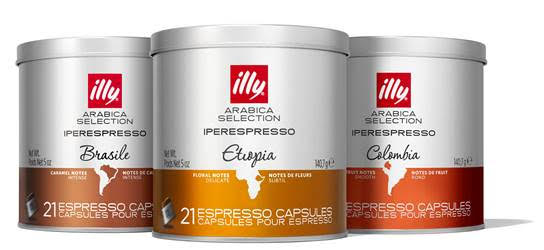 NEW YORK — illycaffè, global leader in the high quality coffee segment, has introduced Arabica SelectionTM iperEspresso capsules, high-quality, single-origin coffees from Columbia, Ethiopia and Brazil for its iperEspresso capsule system. This newest introduction expands the Arabica Selection offerings which include whole beans, k-cup® Pods and now iperEspresso capsules. Arabica Selection coffees are sustainably grown and custom-roasted to highlight the most appealing taste notes associated with each origin country. Coffee lovers will notice the distinct roast enhanced in the flavors of each Arabica: the floral notes from Ethiopia, caramel from Brazil and fruity notes from Colombia.
The single origins of Arabica Selection are essentially illy's signature blend deconstructed to individually highlight each one of the unique flavor notes. An extensive 24-month research and development period executed by illy's in-house Aroma Lab, Sensory Lab and Food Science Lab along with roasting experts at the company's headquarters in Trieste, Italy included chemical and sensorial analyses with over 50 roasting samples to fine tune each Arabica Selection variety. As part of the process, illy's green (or pre-roasted) coffee department identified specific beans from each origin country that met criteria specially developed for Arabica Selection, which were then stored prior to roasting under optimal conditions for temperature and humidity. As a result of this extensive product development, each Arabica Selection has its own unique roasting temperature and length of time to highlight each origins aroma and flavor.
illy's iperEspresso capsule system makes café quality espresso with ease. Unlike conventional one-stage systems, the iperEspresso capsule system uses a patented two-stage process to create intensely aromatic, full-bodied espresso with rich, long-lasting crema. In addition to the availability of the single serve iperEspresso capsules priced at $19 (21 count) these best-in-harvest, 100% Arabica coffees are also available in whole bean 250 gram cans,and k-cup® Pods. Available in North America at illy caffè bars and shops, specialty retailers, and online at www.illy.com.
About illycaffè:
illycaffè is an Italian family business, founded in Trieste in 1933 and committed to offering the greatest coffee to the world. illy is the world's most global coffee brand, producing the unique illy 100% Arabica blend made of 9 of the world 's best selections of Arabica; each day more than 7 million cups are served in over 140 countries in the finest cafés, restaurants, hotels and in offices and homes. illy has become the standard forerunner of espresso, and thanks to three critical innovations, is considered the leader in the science and technology of coffee. With the bestowing of the first "Ernesto Illy Award for quality espresso coffee" in 1991 in Brazil, illy also pioneered direct sourcing, sharing know-how and paying a premium price for the best quality, based on partnerships underwritten by the principles of sustainable development.
The company also founded the University of Coffee with the aim of fostering and spreading its culture, providing comprehensive academic and hands-on training for coffee growers, baristas and coffee lovers in order to cover every aspect of the product. Everything 'made in illy' is enhanced by beauty & art, which represent founding values of the brand, starting from its logo – designed by an artist, James Rosenquist – and including the renowned illy Art Collection, comprised of over 100 cups designed by international artists. In 2017 the company was employing 1,290 people, and posted consolidated revenues of €467 million. There are approximately 244 stores and mono-brand illy shops in 43 countries.