Grainful Unveils New Product Reformulations and Packaging at Expo West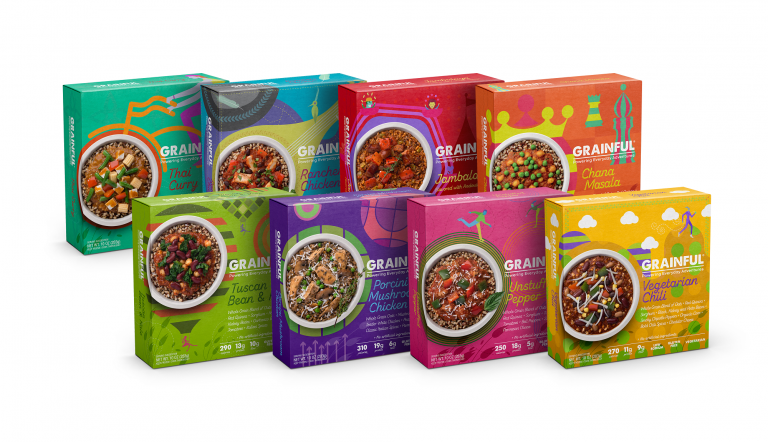 ITHACA, N.Y. — Grainful, a company that is powering everyday adventures with products crafted from the goodness of grains will be unveiling product reformulations, an updated brand look and feel, and new packaging for their frozen entrée product line at Natural Products Expo West next week.
In 2017, Grainful was accepted into the Chobani Food Incubator, and Chobani played a vital role in Grainful's rebranding and product improvement. Working one-on-one with Chobani's manufacturing, operations, product development and marketing teams helped Grainful to better address consumer needs and make healthy, great tasting and convenient food more accessible. The support and mentorship of the Chobani team enabled Grainful to bring its reformulations and new look to fruition.
Grainful improved its frozen entrées based on consumer feedback by incorporating a new gluten-free grain blend of whole oats, quinoa and sorghum and layering on even more delicious vegetables, proteins, and bold sauces. Grainful also transitioned to using a bowl in the packaging which improves the eating experience. The final products have a wonderful texture and rich flavor. They come in eight enticing varieties including Tuscan Bean & Kale, Unstuffed Pepper, Vegetarian Chili, and Porcini Mushroom Chicken, among others.
"We are ecstatic with the results of the rebrand and quality of our products," said Jan Pajerski, Grainful's president. "The bright colors and illustrations convey our personality and passion for craftsmanship to consumers. The packaging pops on-shelf, and each box tells a wonderful story. Our products compare with grain-bowls from top fast-casual restaurants—layers of nutritious whole grains, fresh veggies, and flavorful sauces."
Grainful partnered with the talented team at Love & The Machine to create their new visual identity. The Chicago-based agency consists of passionate and strategically driven marketing professionals who believe that craftsmanship is at the center of good food, and storytelling is central to connecting with consumers.
"We were incredibly excited to partner with Grainful on their rebranding," said Amy Loevy, Love & The Machine's director of client services. "The opportunity to have complete creative freedom and work with a client who was willing to and excited about taking a smart creative risk is a dream. The final collection is bold, imaginative, and engaging."
The reformulated products in the new packaging have already started hitting shelves at leading retailers across the nation including Wegmans, ShopRite, Safeway, HEB, Giant Eagle and Whole Foods. The entrées will also be available for purchase online on the Grainful online store and at Amazon.com this month.
About Grainful
Grainful is comprised of a small, passionate team obsessed with sharing the goodness of grains because they are full of fiber, protein, and nutrients that provide sustaining nourishment and energy. Their roots are in Ithaca, a small town in the Finger Lakes region of upstate New York. Ithaca is known for its local farms, sustainable and independent lifestyle, and adventurous trails and gorges. Met with enthusiasm and support from nutritionists, bloggers, journalists and hundreds and hundreds of families and students who served as taste testers, Grainful launched in 2013. They continue to hone their craft and are driven to. To learn more about Grainful, please visit grainful.com and become a fan on Instagram, Facebook and Twitter.