free2b Foods to Launch Top 12 Allergen Free Chewy Granola Bars and Bites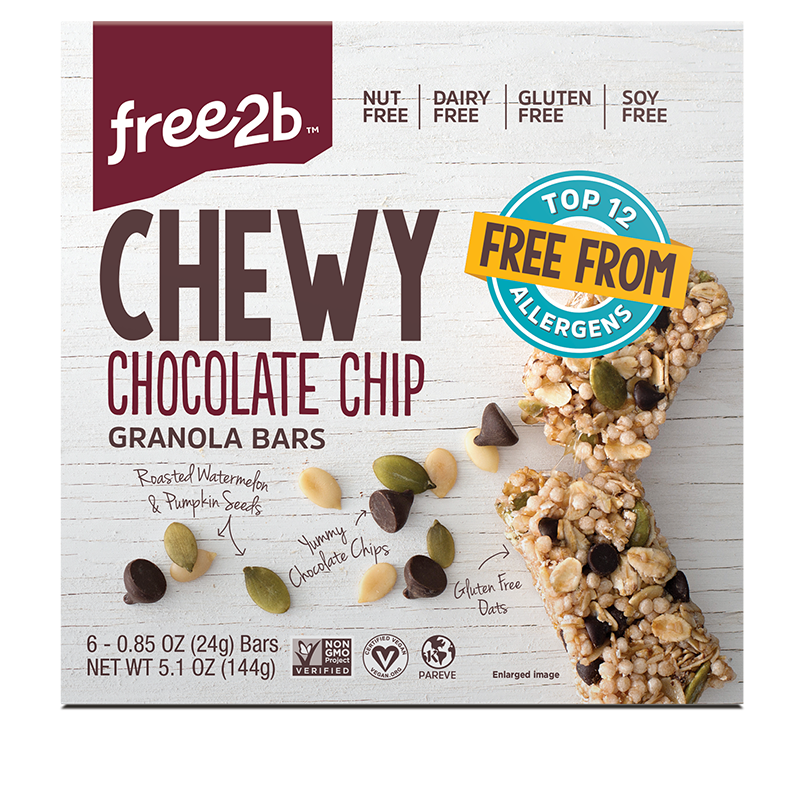 BOULDER, Colo — free2b Foods, creator of delicious Top 12 Allergen Free snacking solutions ideal for households with food allergies and sensitivities, launches Chewy Granola Bars and Bites, officially taking the company beyond its chocolate roots and into everyday snacking occasions.
The new Chewy Granola Bars and Bites are available in three delicious flavors: Chocolate Chip, Oatmeal Raisin, and Apple Cinnamon.  They feature innovative & wholesome ingredients including gluten-free oats, watermelon and pumpkin seeds and vegan apple "honee" for a touch of sweetness. In addition to being Top 12 Allergen Free, they are Non-GMO Project Verified, Celiac Support Association Certified Gluten-Free, Certified Vegan, and Kosher Pareve.
"free2b is trusted for offering premium chocolate snacks that are free-from top food allergens, and we are excited to be broadening our portfolio for food sensitive households with Chewy Granola Bars and Bites," said Mike Murray, CEO of free2b Foods. "We continue to surprise and delight on taste while creating new solutions in our dedicated Top 12 Allergen Free facility."
The bars will be sold in 6-count boxes with a suggested retail price of $3.99 a box. The bites will be sold in gusseted re-sealable bags with bite sized squares for snacking now or on-the-go. Bite pouches will sell for a suggested retail price of $4.99 a bag.
free2b Chewy Granola Bars and Bites begin rolling out nationwide in March 2018 and will also be available for sale on their website. To learn more about Chewy Granola Bars and Bites and other free-from delights from free2b Foods, please visit us on Facebook @free2bfoodscompany, on Twitter and Instagram @free2bFoods, or online at www.free2bfoods.com.
What is Top 12 Allergen Free?
This means that free2b never allows peanuts, tree nuts, dairy, gluten/wheat, soy, egg, shellfish, fish, coconut, corn, mustard, or sesame in their plant or products. EVER.  But their team didn't stop there.  They are also free-from artificial sweeteners, flavors, colors, sulfites, lupin, GMOs, hydrogenated oils and transfats. And, because their products are all plant-based, they are also cholesterol free.
About free2b Foods 
Based in Boulder, CO, free2b Foods helps families eat fearlessly and live brilliantly with delicious snacking solutions free-from top allergens.  The company first introduced their popular Sun Cups in 2008 in response to a father's plea to make a chocolate cup that was safe for his peanut allergic son. Today, free2b Foods has a dedicated facility that is free-from the Top 12 food allergens. In addition to making a variety of premium chocolate cups, chocolate bars, and snacking chocolate, they now offer Chewy Granola Bars and Bites.  All of their snacks are Top 12 Allergen Free and plant-based.  free2b Foods are available in retailers nationwide and on their website www.free2bfoods.com.