Explore Cuisine Launches Mung Bean Rotini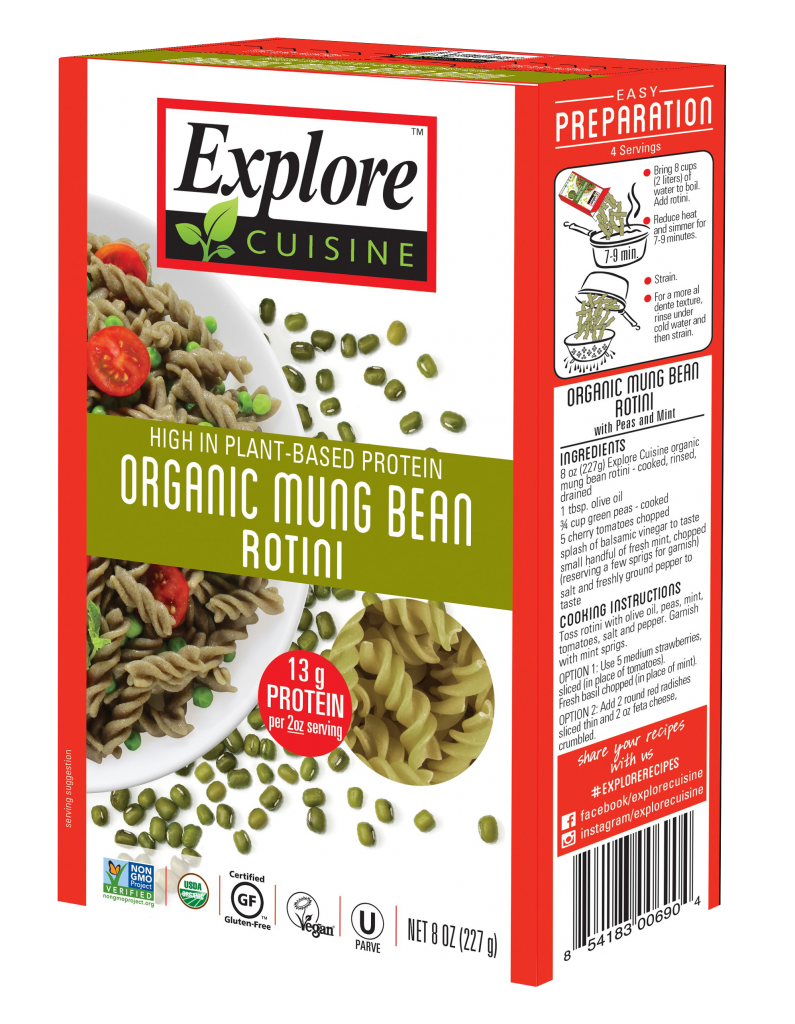 RED BANK, N.J. — Explore Cuisine, the leading organic, plant-based, and gluten-free pasta on the market has launched a new bean pasta, Mung Bean Rotini.
Exclusively available on Amazon, the new Mung Bean Rotini has just one ingredient – organic beans! Featuring 14g of protein per 2oz serving, this product is also vegan, gluten-free, non-GMO and jam packed with nutrients.
On the heels of Explore Cuisine's expansion to 570 Kroger stores nationwide and internationally to Canada, the brand has continued its growth with the launch of the Mung Bean Rotini SKU. "It's just a smarter way to pasta" shared Joe Spronz, Founder of Explore Cuisine. "With the addition of the new Mung Bean Rotini variety, we are excited to offer wholesome, nutritious options to our constantly expanding consumer base looking to have easy and healthy meals. "
Explore Cuisine is dedicated to innovative cooking using organic ingredients of the highest quality. The Mung Bean Rotini is a part of the Organic Bean Power line, the brand's original collection of organic pastas developed by the company's founder who was searching for a protein rich alternative to traditional pasta. With 13 grams of protein per serving and a low glycemic index, this rotini surpasses the nutritional content of traditional wheat pasta. The full Organic Bean Power collection includes: Mung Bean Rotini, Edamame Spaghetti, Black Bean Spaghetti and Edamame & Mung Bean Fettuccine. Explore Cuisine's pastas are an ideal meal solution for the entire family, providing a rich culinary experience crafted from quality ingredients that can be enjoyed by all.
About Explore Cuisine
Explore Cuisine markets and distributes innovative foods using plant based organic ingredients of the highest quality. Our selection of pasta and noodles from across the globe integrates beans, peas, lentil and rice to provide consumers with nourishing meals that are easy, quick, naturally colorful and most importantly delicious. Our brands are available in over 20 countries worldwide and sold in leading retailers. We are committed to trading fairly and support farmers and their communities, so everyone benefits along the way. 2% of the proceeds support the Food to Thrive Foundation. For more information please link to our website www.ExploreCuisine.com which is regularly updated with brand news and delicious recipes.