YumEarth Unveils New Product Packaging
STAMFORD, Conn.– YumEarth will begin rolling out new packaging this week in conjunction with their retailers, nationwide. The updated packaging, fresh and familiar, comes as the brand expands their product line, revamps their website, and continues their effort to leave less of an environmental footprint.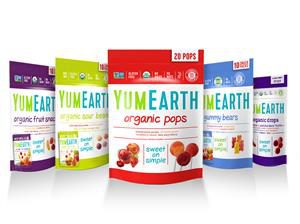 A photo accompanying this announcement is available at http://www.globenewswire.com/NewsRoom/AttachmentNg/4bc52f8c-e065-42f2-97e1-849de23014e3
Updated packaging builds upon a white background with natural colors, a brand-new logo, prominently displayed certifications, and actual product photography for an added mouth-watering effect. Smiling fruit, fun flavor names, and a YumEarth word cloud give packaging the fun feel our customers are accustomed to. The new tagline, "sweet on simple," takes its place, front and center.
"Packaging is where the consumers form their first impressions and our cleaner look now compliments the taste of our candy, the attitude of our brand and our cleaner ingredients," says YumEarth project manager, Julia Lorusso. "We really wanted packaging that showcased our whimsical spirit in a fresh, eye-catching way."
Since YumEarth's beginning in 2007, the focus has been on making every product with honesty and integrity and now the same philosophies will extend to the packaging. Most of the YumEarth packaging will be manufactured in factories built to LEED-sustainable building guidelines and using equipment powered 100% by wind-generated electrical energy.
"Finding ways to minimize our environmental footprint is something that we're constantly working towards," says Michael Sands, CEO of YumEarth. "Our customers choose us not only for our great tasting candy, but also because we care about their commitment to a lifestyle of health and sustainability."
The new packaging embodies the brand; simple, fun, honest, and more sustainable.
About YumEarth
Founded in 2007, YumEarth is devoted to creating flavorful fruit based sweets made with only the best and most honest ingredients. The brainchild of two loving fathers, YumEarth specializes in candy for those with strict dietary restrictions and those who want more out of their snacks. Almost aways organic and always gluten-free, the mouth-watering candy from YumEarth are available in WholeFoods, Target, Amazon.com, and many other national and local stores. For more information visit http://www.yumearth.com/.