Wild Planet Announces Packaging Redesign
McKinleyville, Ca – Wild Planet Foods, the leading provider of shelf-stable sustainable seafood, is pleased to announce an all-new packaging redesign of all products, beginning with the Tuna, Salmon and Sardines items.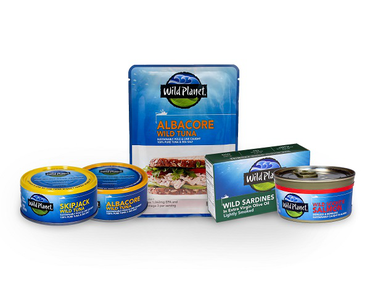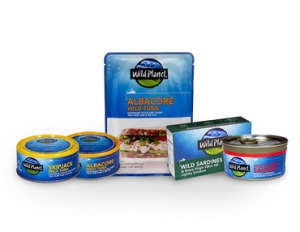 Debuting on grocery shelves nationwide in January 2017, Wild Planet's bold, new packaging will feature a crisp, modern and clean look to represent the fresh, premium, high quality product found inside of each can (or pouch) of the company's sustainably-fished tuna, salmon and sardines.
The new packaging will feature a refined Wild Planet logo, cleaner lines, and bolder color and text. The design of each label includes a new, blue background reminiscent of the sea, an ode to Wild Planet's dedication to transparency in providing natural, top quality seafood and protecting the earth's ecosystem. A red "No Salt Added" flag has also been added to products which do not contain added salt, providing easier identification and harmonization across the expanding "No Salt Added" line.
"We are very excited to kick off 2017 with the launch of our redesigned packaging across all 30 retail SKUs in our product line," said Sue Jacobs, Director of Marketing. "We feel the use of a bolder product name and a streamlined color system to clearly identify each variety within the product subsets will provide consumers with ease in making their selections in a retail setting. In addition, the clean lines, the use of our signature blue water background with a subtle glow behind the slightly modified logo will allow consumers to continue to easily identify our brand on shelf. "
Found in natural and mainstream grocery, club and big box stores across the country and online at wildplanetfoods.com, Wild Planet's products are sustainably-fished and contain no added or artificial ingredients. Gluten-free, OU Kosher Pareve and packed with heart healthy nutrients, each of Wild Planet's products are considered Best Choices for sustainability by the consensus of environmental groups in order to adhere to the highest standards of sustainability possible. For more information and to purchase via the company's website, please visit www.wildplanetfoods.com.
Like what you're reading?
Subscribe to BevNET+NOSH Today
Subscribe today and get access to the leading industry resources in the food &amp beverage industries. News, trends, industry data, expert analysis and much more.
Access all of these benefits:
Unlimited access to all content on BevNET.com and NOSH.com
Exclusive access to hundreds of educational videos
Watch subscriber-only live programs such as Office Hours