Red Duck Foods Introduces New Line of Organic Taco Sauces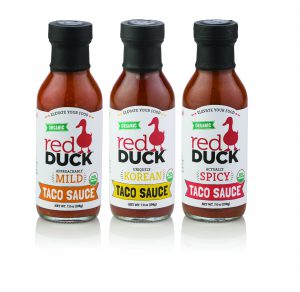 PORTLAND, ORE. – Red Duck Foods, a premier condiment company committed to crafting superior, non-GMO organic ketchups, BBQ sauces and cocktail sauce, spread their wings with the launch of a line of certified organic taco sauces at the Natural Products Expo West Show.
With this latest product line, Red Duck is putting a unique twist on familiar taco sauce favorites. With a keen eye for honest ingredients and nuanced flavors, Red Duck's artisan products elevate any meal and help to cut time spent in the kitchen. The new taco sauces are sure to turn taco night – or any meal – into a global fiesta!
The three new organic taco sauces are:
APPROACHABLY MILD Tasty tomatoes that go from field to puree in less than four hours and lots of citrus create a super bright sauce, with the added depth and earthiness of bell peppers and a touch of sweetness from carrots. This is the taco sauce for kids and those who are faint of heart when it comes to spice. While it may be mild in terms of the level of spiciness, it's full of flavor that's perfect to cook with beef, chicken or pork, light and bright enough for mild white fish, and adds pizazz to pizza.
UNIQUELY KOREAN Orange, tomatoes and molasses bring a little sweetness, miso and tamari pack a savory umami punch, and Bird's eye chili pepper and gochugaru deliver a lasting kick to make this one super complex sauce! It would be a unique and flavorful addition to burgers, stir-fries and meatballs.
ACTUALLY SPICY For those looking for a good kick, this is our spiciest sauce. Our pepper trifecta hits your senses at various points to create a spicy story with a beginning, middle and grand finale. Tasty on tacos, of course, but eggs, a Bloody Mary, fried chicken and even collard greens will also benefit from a hit of this sauce.
Coming to stores in May 2017, the line of clean-ingredient taco sauces are will also be available for purchase online at Red Duck Foods.
About Red Duck Foods
Red Duck Foods is a premier condiment company based in Portland, Oregon. Founded by Jessica Hilbert, Shannon Oliver and Karen Bonner in 2013 when they were graduate student classmates, their pioneering spirits believed regular condiments didn't cut the mustard. Red Duck Ketchup, the company's first product line, dared to elevate the popular condiment by using high-quality, organic ingredients. In 2015, Red Duck expanded its product list with the introduction of cocktail sauce. Three USDA organic BBQ Sauces joined the growing product line in May 2016, followed by three taco sauces in May 2017. Red Duck's products bring an artisan approach to whole, honest ingredients while presenting a unique, unexpected twist on familiar flavors. For more information, please visit www.redduckfoods.com and Facebook, Instagram and Twitter.