Plant Based, Bun Ready: Sunshine Burgers Launches New White Bean Burger
FORT ATKINSON, Wis.– Staying true to its pure and simple Certified Organic, whole food recipes originally created in a farmhouse kitchen, Sunshine Burgers® is pleased to announce that it will feature its plant-based veggie burgers at The Fresh Ideas Organic Marketplace on March 9, 2017, at Natural Products Expo West in Anaheim, CA. Expo West, now in its 37th year, is the world's largest natural and organic trade show, drawing nearly 80,000 visitors from more than 70 countries.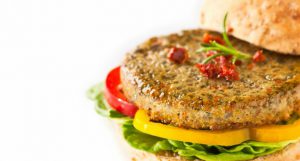 Sunshine Burgers® will sample a new plant-based burger, Tuscan, soon to be introduced into the marketplace. Made with white bean, kale and red peppers and seasoned with fennel seed, garlic and sun dried tomatoes, the new burgers are bursting with Italian goodness. The Tuscan burger will soon join the already well-known and delicious line of Certified Organic and Non-GMO Project Verified Sunshine Burgers® products in the freezer case, which have been available in leading natural, organic and specialty food stores for more than 30 years.
Founded in 1983, Sunshine Burgers® have consistently been a great source of healthful, plant-based food for millions of people. The products are always organic, gluten free, naturally cholesterol free and made without soy, wheat, corn, dairy, eggs tree nuts or peanuts. While often considered a perfect compliment for those following a vegetarian or vegan diet, Sunshine Burgers® will appeal to anyone seeking more plant-based options among their meal choices.
In fact, as consumers increasingly recognize the healthful benefits of plant-based foods, meat alternatives, non-dairy beverages and vegan offerings have rapidly moved into the mainstream. Dubbed "Disruptive Green," Innova Market Insights identified plant-based products as one of the top food trends of 2017. Leading market research firm Mintel also identified "Power to the Plants," as one of six top key global food trends in 2017.
"Our products have always been made with pure and simple whole food ingredients, and they are a good source of plant based protein and fiber," says Cole Jones, General Manager of Sunshine Burger & Specialty Food Company, maker of Sunshine Burgers®. "With the introduction of Tuscan flavor we will soon offer seven different and distinctive choices for our customers – and we think once you try this new flavor, you will love it."
Tuscan Sunshine Burgers® will soon join the ever popular Garden Herb variety, Shiitake Mushroom, Black Bean South West, Barbecue, Breakfast Hemp & Sage and Falafel, plus for bigger appetites, the Quarter Pound Original. All Sunshine Burgers® flavors, except for Barbecue, are made with no added sugar.
Sunshine Burgers® new Tuscan variety will be available nationwide later this spring through leading distributors KeHe and UNFI. To find a store location near you visit www.sunshineburger.com. For wholesale inquiries, contact info@sunshineburger.com.
About Sunshine Burgers
Since 1983, Sunshine Burgers® has been dedicated to offering you delicious, whole food, plant-based burgers made with Certified Organic, Non-GMO Project Verified ingredients. Our burgers are gluten free, naturally cholesterol free and made without wheat, soy, corn, oats, dairy, eggs, tree nuts and peanuts. Sunshine Burgers® are perfect for anyone seeking more plant-based options. Visit www.sunshineburger.com for dozens of recipe ideas and for more information.
Visit Sunshine Burgers® at the Fresh Ideas Organic Marketplace, Booth #F121, Thursday, March 9, 12:30-5:30 pm, at Natural Products Expo West, in Anaheim, CA.