Organic Snack Maker Nature's Bandits Launches in Metro New York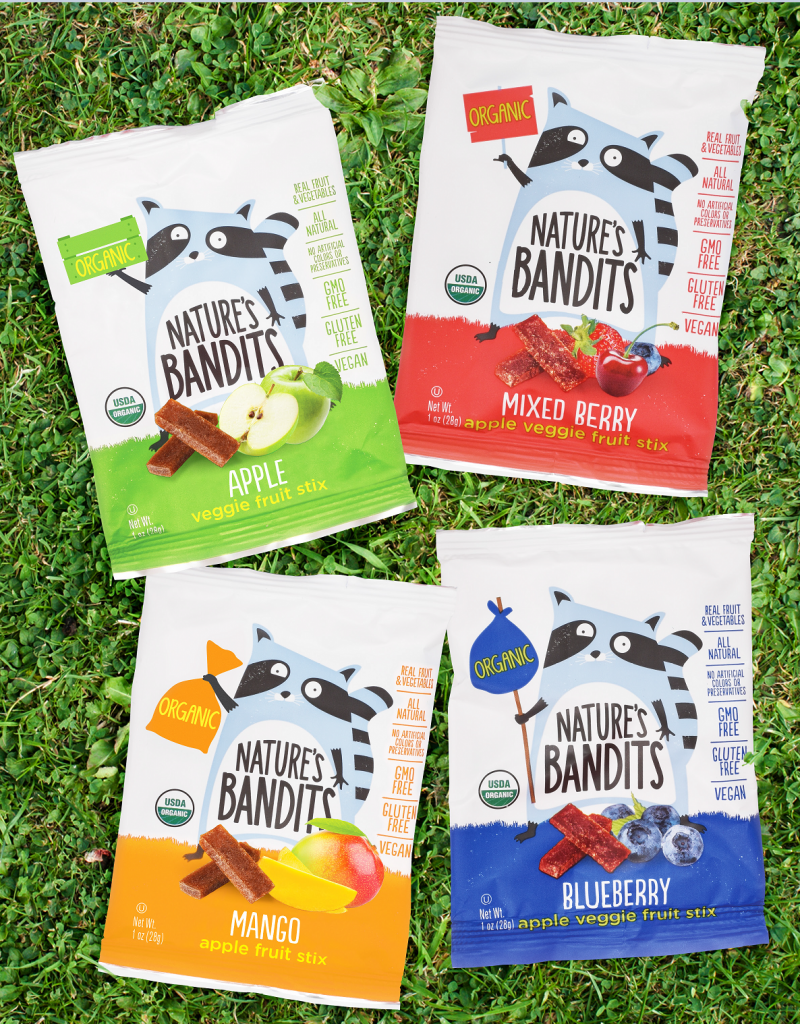 Riverside, CT– Meeting the consumer's need for a healthy family snack, Nature's Bandits LLC recently launched an organic fruit and veggie snack in the NYC Metro area. The Company introduced Nature's Bandits Fruit & Veggie Stix in two flavors, Mixed Berry and Blueberry, and two sizes, a single serve and a multi-pack.
The Company was started by two brothers and a cousin, Joe, Nick and Drew Carvalho, in an effort to provide healthy organic snacks the whole family could enjoy. The snack is organic, made from real fruit and vegetables, with no artificial colors or preservatives. It's GMO-Free, Gluten-Free and Vegan.
"It's well known consumers are moving toward heathier choices, but the snack aisle doesn't make that so easy," said Joe Carvalho. "We don't want the consumer to have to compromise and that is why we offer a healthy organic snack that also tastes great."
The trio launched the brand in the New York City area earlier this year. "The response has been overwhelming," said Drew Carvalho. "We are in over 250 outlets and the velocity has been great. We wanted to start in a narrow footprint and go deep before expanding wide. So the focus has been on local sampling and marketing. We'll look to expand selectively."
Nature's Bandits will be introducing two new flavors, Mango and Apple. "We will be unveiling the new flavors this month at the Fancy Food Show in New York City," said Nick Carvalho. "Our customers have been asking us to add more flavors to our lineup. Mango and Apple were the most requested and tested best."
Nature's Bandits Single Serve comes in 1oz. bags with a SRP of $1.25-$1.50. The 5-pack multi pack comes with 0.6 oz. bags and collectible trading cards, and a SRP of $4.99-$5.99.
Nature's Bandits will be at the Fancy Food Show, Booth # 3609, at the Javits Center, New York City from June 25-June 27.
About Nature's Bandits
Nature's Bandits is a great tasting and healthy fruit and veggie snack that the entire family can feel good about eating. Certified organic, our snacks are made of real fruit and vegetables with no artificial colors, no artificial sweeteners and no artificial preservatives. The snack contains no high fructose corn syrup and is Certified Organic, GMO Free, Gluten Free and Vegan (there's no gelatin). Great for snacking at home, school or at the office, the convenient 1 oz bags are also perfect as a grab-and-go snack. Throw Nature's Bandits into your bag, backpack or lunch box and enjoy them anywhere and at any time of day. Each 5 Pack box contains 2 collectible trading cards. Collect all 20 woodland characters cards.
For more information please visit us at www.naturesbandits.com or on Facebook, Instagram, or Twitter.