Humphry Slocombe To Launch 3 New Ice Cream Flavors
San Francisco– The Winter Fancy Food Show just got a little sweeter this year… Humphry Slocombe—the San Francisco small-batch ice cream brand synonymous with unique, ultra-premium ice cream—will unveil its most exciting flavors to date before their launch in Spring 2017. Until now, you could only find these flavors in limited batches at their stores (in the Mission and the Ferry Building).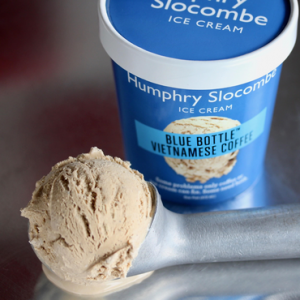 Since opening in San Francisco's Mission district eight years ago, Humphry Slocombe has established itself as a leader in cutting-edge flavors and uncompromising quality by pioneering ice cream made with locally sourced produce, spices, and booze. Co-Founders, Jake Godby (Chef) and Sean Vahey (Food & Beverage Manager) continue to use their extensive culinary backgrounds to create new flavors and experiences never seen before.
Located at Booth #576, Humphry Slocombe will offer first ever tastes of new flavors such as Salted Caramel Cocoa Nib, Blueberry Boy Bait, and Cheesecake Chocolate Wafer. These new flavors will join existing favorites such as Blue Bottle Vietnamese Coffee (2016 Sofi Finalist), Honey Graham, and Peanut Butter Fudge Ripple.
Salted Caramel Cocoa Nib – Salted caramel ice cream with toasted cocoa nibs folded in. Salty, sweet, crunchy – everyone wins!
Blueberry Boy Bait – Blueberry ice cream with a touch of olive oil, and brown sugar streusel folded in. Hook, line, and sinker.
Cheesecake Chocolate Wafer – A whole lot of cream cheese with housemade chocolate wafers. Grab a spoon and put on your stretchy pants.
About Humphry Slocombe
Rebellious and unapologetic, Humphry Slocombe's ice cream has its own personality and flavors that appeal to adult tastes, but is loved by all. Humphry Slocombe has almost 300K followers on social media and was recently named one of "San Francisco's Most Delicious Instagram Accounts" by 7X7 Magazine. It has also attracted attention from the national press including feature articles in The New York Times Magazine and Bon Appetit and several television appearances, such as the "Top 5 Ice Creams in America" spot by Food Network.
Welcome to the bizarre, delicious, frozen universe of Humphry Slocombe.