Heavenly Organics Announces Glyphosate Free Certification on 100% Organic Raw Honey
Keota, IA — Heavenly Organics™, manufacturer of 100% Organic, Raw, Pesticide and Antibiotic Free Honey from wild beehives has met the BioChecked™ ZERO Tolerance Standard and is pleased to announce that its White, Neem and Acacia honey varietals are now Glyphosate Free Certified™. Heavenly Organics honey has been scientifically proven to be clean and contaminant free of pesticides. The company has met and agreed to submit to regular independent lab testing for its honey and is the first honey on the market to be Glyphosate Free Certified™.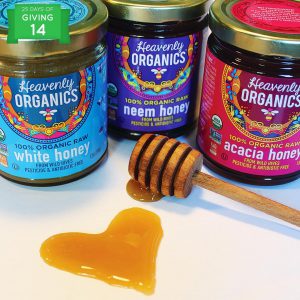 Glyphosate is an herbicide that is applied to the leaves of plants to kill both broadleaf plants and grasses. Glyphosate was first registered for use in the U.S. in 1974 and is one of the most widely used herbicides. Glyphosate is the key ingredient in Monsanto's Roundup weed-killer and hundreds of other products. The U.S. Environmental Protection Agency (EPA) is finalizing a risk assessment for glyphosate to determine if future use should be limited.
Currently, there is no "maximum residue limit" (MRL) or tolerance level set for glyphosate found in honey in the U.S. In 2016, all U.S. honey samples, even organic brands, tested by the FDA contained glyphosate residues. Some of the honey showed residue levels double the limit allowed in the European Union, per documents obtained through a Freedom of Information Act request. Glyphosate is considered by the World Health Organization to be a probable human carcinogen.
The growing concern for the safety of the food people are ingesting and the detrimental impacts these pesticides are having on both our health and our environment are critical issues, and Heavenly Organics has been leading the charge and setting the bar for contaminant-free honey.
"We couldn't be more excited to announce that we are Glyphosate Free Certified™," said Co-founder and CEO of Heavenly Organics, Amit Hooda. "We hope this partnership with BioChecked™, brings even more awareness to the use of pesticides and how they are having a negative impact on human health, the environment, and bee colonies worldwide. The government needs to set a tolerance level for glyphosate found in honey and create a universal labeling system, because people have the right to know what's in their food."
In contrast to the honey being affected by these pesticides and chemicals, Heavenly Organics sources its raw and organic honey from wild beehives located in the untouched forests of Northern and Central India and parts of the Himalayas, for the absolute purest and most delicious honey on the market. Since these naturally occurring, wild beehives are found in such remote areas, the bees are far from the reach of pesticides and other pollutants. Also, since Heavenly Organics' proprietary honey collection method is bee-friendly and smoke free, the company is proud to say that they protect approximately 500 million bees per year. Heavenly Organics Raw Honey is 100% Organic and Non-GMO Project Verified, which is unattainable in most regions today.
BioChecked™ has several independent third party certification programs for producers that want to become leaders in environmental and health friendly actions. BioChecked™ brands have become the leading industry "Marks of Consumer Environmental and Health Awareness."
About Heavenly Organics
Heavenly Organics was founded in 2005 to help sustain the economic and cultural survival of indigenous people located in remote and conflicted areas of Northern and Central India and parts of the Himalayas. The company was built on the belief that the only way to eliminate conflict is to provide ethical job opportunities. Heavenly Organics' products not only provide healthier alternatives that taste amazing but that are changing people's lives, transforming the supply chain and offering a unique business model that can help foster peace in conflict areas.
'Like' Heavenly Organics on Facebook here.
To view a video on the company's unique honey harvesting method, please click here.
For more information about Heavenly Organics, please visit www.HeavenlyOrganics.com.