Filthy Food Partners With Coastal Pacific Wine & Spirits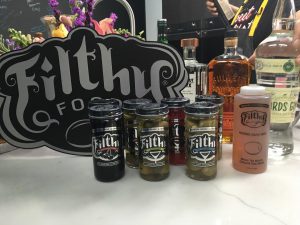 MIAMI, FL –– Filthy Food is delighted to announce a 29-state deal with Coastal Pacific Wine & Spirits, a division of Southern Glazer's Wine & Spirits, making the Filthy brand readily available for cocktail connoisseurs nationwide.
"We are very fortunate and excited to have the opportunity to represent Filthy Food® across our national footprint," explains Gerry Rivero, Executive Vice President and Managing Director of Coastal Pacific Wine & Spirits of America. "The craftsmanship of Filthy's product line is the perfect complement to our portfolio of the world's top global brands, as bartenders and consumers seek the highest-quality cocktails, both on- and off-premise."
This new partnership will enable the Filthy Food's expansion in twelve open markets, including California, Florida, Texas, Indiana, Washington, Louisiana, Missouri, Nebraska, Kentucky, Hawaii, Oklahoma and Alaska. In phase two, Filthy will also expand across seventeen controlled states, including Maine, Vermont, New Hampshire, Pennsylvania, West Virginia, Virginia, North Carolina, Alabama, Mississippi, Iowa, Ohio, Michigan, Oregon, Wyoming, Montana, Idaho, and Utah. Additionally, Filthy Food will be one of only three non-alcoholic brands represented by Coastal Pacific Wine & Spirits.
"We are extremely proud to have joined forces with Coastal Pacific Wine & Spirits. Forming the right partnerships is the key to success and in CPWS we have found an insightful and dedicated partner, that shares our passion for improving the guest experience through quality cocktails. We are committed to making Filthy premium garnishes more readily available to both on and off-premise customers and are grateful to Gerry Rivero for his vision and the whole CPWS organization for their belief that Filthy® would add value to their wonderful portfolio of world class spirits." – Filthy Daniel Singer
ABOUT FILTHY
Filthy Food® is the only line of garnishes made specifically for alcohol. With bars moving towards fresher, higher quality ingredients, the cocktail renaissance exposed categories that hadn't evolved. Traditional garnishes like olives and cherries were very poor quality, oily and high in salt but most importantly didn't add anything to the guest experience. Obsessed with the details, brothers and Filthy Food® co-founders, Daniel and Marc Singer saw an opportunity to create the industry standard and explored hundreds of varieties of cultivatable olives in search of the perfect garnishes for cocktails. Making garnishes with care for people that care, the brothers have developed a full line that include The Filthy Pickle – a fleshy queen olive stuffed with a mini gherkin, the Filthy Black Cherry, which is the only garnish to ever be nominated for an award at Tales of the Cocktail® and the Filthy Blue Cheese stuffed olive, which is filled with real sharp Wisconsin Blue Cheese. Filthy is used by some of the best bars in the world and the "Best Martini & Bloody Mary Olives in the Business' according to GQ. For more information please visit www.filthyfood.com
ABOUT COASTAL PACIFIC WINE & SPIRITS
Southern Wine & Spirits of America, Inc. is the nation's largest wine and spirits distributor and broker with operations in 35 markets. The multi-state distributor currently operates in: Alabama, Alaska, Arizona, California, Colorado, Delaware, the District of Columbia, Florida, Kentucky, Hawaii, Idaho, Illinois, Indiana, Iowa, Maryland, Maine, Michigan, Mississippi, Montana, Nevada, New Hampshire, New Mexico, New York, North Carolina, Ohio, Oregon, Pennsylvania, South Carolina, Utah, Vermont, Virginia, Washington, West Virginia and Wyoming. In addition, Southern operates in Minnesota through a joint venture with J.J. Taylor Distributing Company. Southern also holds operating licenses and permits in Nebraska and Texas. On a national basis, Southern Wine & Spirits of America, Inc. employs nearly 14,000 team members. Southern urges all retail customers and adult consumers to market, sell, serve and enjoy its products responsibly. For more information about Southern and its responsible consumption program, see: http://www.southernwine.com.