D'vash Organics Launches Local Organic Date Nectar
LOS ANGELES, CA – D'vash Organics is excited to announce the launch of D'vash Date Nectar, a USDA organic sweetener and vegan honey alternative made entirely from California dates, on the company's website:¬ www.dvashorganics.com.Gluten-free, fat-free, and non-GMO, D'vash is a versatile superfood that's rich in antioxidants and perfect for sweetening coffee or tea, marinating chicken, drizzling on pancakes or yogurt, dressing salads, baking, and much more.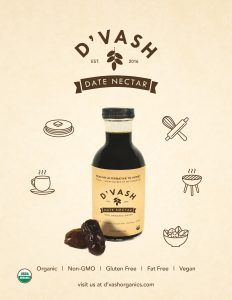 D'vash Organics was founded by two best friends who hail from the American Midwest but discovered D'vash during a cultural and culinary adventure throughout the Middle East. Indeed, D'vash traces its history back thousands of years to the ancient Near East, and most historians believe that the original "honey" Рmentioned repeatedly in the Bible -was actually date nectar.
D'vash also contains significantly less sugar than honey, agave nectar, and maple syrup, all without sacrificing its crisp, balanced, and naturally sweet flavor. D'vash is available in 12-ounce bottles and is also sold in smaller "D'vash Date Nectar Stick" form for on-the-go enjoyment in coffee and tea or as a stand-alone snack.
"D'vash Date Nectar is not only delicious, it's also the quintessential superfood," said David Czinn, Co-Founder and Co-CEO of D'vash Organics. "Our product is vegan, non-GMO, gluten-free, fat-free, and made from only one ingredient Рorganic, locally-sourced California dates. We're incredibly excited to share the ancient Middle East's best-kept culinary secret with health-conscious American consumers who love good food without the guilt."
Bottles of D'vash Date Nectar will be available at the company's website, www.dvashorganics.com, at a suggested retail price of $8.49. 20-packs of D'vash Date Nectar Sticks will also be available on the website at a suggested retail price of $3.99. D'vash fans throughout the United States should also stay tuned for the brand's upcoming launch in national, regional, and local retailers across the country. More information and updates on D'vash Organics can be found on the company's website as well as its Facebook, Instagram, or Pinterest pages. All questions, press inquiries, and invitations to collaborate should be directed to info@dvashorganics.com.