Bellucci's Releases 2017 Extra Virgin Olive Oil Lineup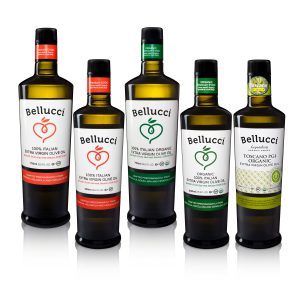 SEATTLE– Every spring Bellucci brings to the US market, new fresh, traceable, Italian EVOO. This harvest season is proving to be their best year yet! Much like wine, every year the EVOO crop will change depending on the weather, soil conditions and many other factors all of which are reflected in the unique flavor of the oil. Here is the Bellucci 2016/2017 Harvest Season lineup:
Classic 100% Italian EVOO – Classic flavor boosted by the Coratina olive's spicy, heart-healthy polyphenols, with an even balance between pepper and fruit. There is an aroma of herbs, apple and almond. A versatile EVOO for every day cooking. Perfect for crostini, pasta sauces and sautéed leafy greens.
Organic 100% Italian EVOO – Subtle notes of pepper give way to the favor of fruit, with hints of tomato and fresh herbs. Just right for comfort cooking such as stews, risotto and roasted meats.
Toscano PGI Organic 100% Italian EVOO – Intense flavors of both fruit and spice. The perfect finishing touch to drizzle over bruschetta, soups, Caprese salad, grilled vegetables, fish and meat. Toscano PGI (Protected Geographic Indication) Organic is certified by a consorzio in Tuscany that the olives are grown, the EVOO is pressed and the oil is bottled all within the region of Tuscany.
"We are very excited to bring this years new harvest of EVOO to our customers," said CEO Gerard Jara. "The flavors are truly unique with a beautiful balance of spicy, fruity and bitter notes throughout our entire product range."
If you are looking to challenge your EVOO tasting skills against a professional, go to the App Store or Google Play Store to download the Bellucci App. This app not only allows you to trace your individual bottle back to the mills in Italy, but also let's you put your taste buds to the test.
You can learn more about Bellucci by visiting www.belluccipremium.com.